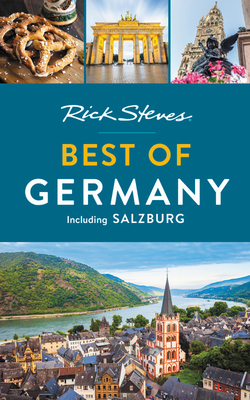 Rick Steves Best of Germany (Paperback)
With Salzburg (Rick Steves Travel Guide)
Rick Steves, 9781641711128, 429pp.
Publication Date: November 12, 2019
* Individual store prices may vary.
Description
Hit Germany's can't-miss art, sights, and bites in two weeks or less with Rick Steves Best of Germany! Inside you'll find:
Strategic advice from Rick Steves on what's worth your time and money
Short itineraries covering Munich, Bavaria, Rothenburg and the Romantic Road, the Rhine Valley, and Berlin, plus Salzburg, Austria
Rick's tips for beating the crowds, skipping lines, and avoiding tourist traps
The best of local culture, flavors, and haunts, including walks through museums and atmospheric neighborhoods
Trip-planning strategies like how to link destinations and design your itinerary, what to pack, where to stay, and how to get around
Over 400 full-color pages with maps and vibrant photos
Suggestions for side trips to Dachau Memorial, Würzburg, Nürnburg, Burg Eltz, Cologne, Baden-Baden, Frankfurt, Dresden, and Hamburg
Experience the old-world romance and modern-day excitement of Germany with Rick Steves.
Planning a longer trip? Pick up Rick Steves Germany 2020, the classic, in-depth guide to exploring the country, updated annually.
About the Author
Since 1973, Rick Steves has spent about four months a year exploring Europe. His mission: to empower Americans to have European trips that are fun, affordable, and culturally broadening. Rick produces a best-selling guidebook series, a public television series, and a public radio show, and organizes small-group tours that take over 30,000 travelers to Europe annually. He does all of this with the help of more than 100 well-traveled staff members at Rick Steves' Europe in Edmonds, WA (near Seattle). When not on the road, Rick is active in his church and with advocacy groups focused on economic and social justice, drug policy reform, and ending hunger. To recharge, Rick plays piano, relaxes at his family cabin in the Cascade Mountains, and spends time with his son Andy and daughter Jackie. Find out more about Rick at www.ricksteves.com and on Facebook.
Connect with Rick:
facebook.com/RickSteves
twitter: @RickSteves
instagram: ricksteveseurope