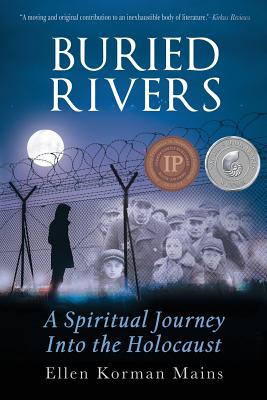 Buried Rivers
A Spiritual Journey into the Holocaust
Paperback

* Individual store prices may vary.
Description
Triple Award Winner including: 2018 SILVER NAUTILUS BOOK AWARD and 2019 INDEPENDENT PUBLISHER BRONZE MEDAL for Memoir, and 2019 NEXT GENERATION INDIE BOOK AWARD FINALIST for Spirituality
To the chagrin of her Holocaust survivor parents, the author chose a Buddhist path at the age of 19. More than three decades later, she felt the presence of spirits who had perished in the Holocaust. Their question, "How can you still believe in basic goodness?" sent her on a series of life-changing journeys to find the answer. In 2006, she began traveling to Poland, the Holocaust's largest graveyard, to connect past and present, and to reconcile a cosmic wound with basic goodness. Would years of Buddhist meditation prove helpful to her family lineage instead of being a betrayal?
Beyond recovering a lost family history, Buried Rivers reveals powerful connections between spirituality and trauma, and intimately explores family loyalties, crossing religious boundaries, and the invisible blessings of ancestors. With unflinching honesty channeled through a poetic spirit, this riveting page-turner reveals how healing, magic, and life itself can transform fear and open our hearts despite unimaginable suffering. Braided within the memoir is the original Auschwitz survivor account by the author's uncle before his death.
". . . provides a fresh take not only on the Holocaust, but also the proper response to the seemingly inerasable stain left by profound anguish . . . A moving and original contribution to an inexhaustible body of literature." --Kirkus Reviews
West Lake Books, 9781641840170, 320pp.
Publication Date: October 15, 2018