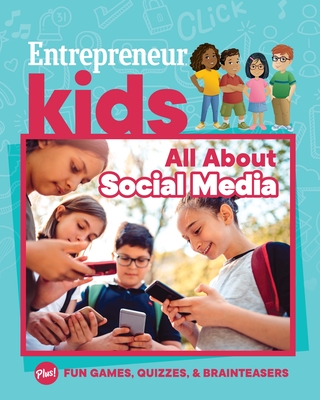 Entrepreneur Kids
All about Social Media
Paperback

* Individual store prices may vary.
Description
Meet Entrepreneur Kids For over 30 years, the business experts at Entrepreneur have brought readers the best in small-business and startup content from finance and management to sales and marketing. Now it's time to help lead a new generation. Entrepreneur Press is proud to present the third book in the Entrepreneur Kids series, Entrepreneur Kids: All About Social Media
Today's kids are tech-smart, media-savvy, and goal-oriented. They need books and content that will give them the tools they need to achieve their dreams. Whether they want to set up a lemonade stand, develop an app, or start a dog-walking business, Entrepreneur Kids have great ideas--and we'll help them make it happen.
Entrepreneur Kids: All About Social Media is a fun, interactive book filled with quick lessons, tips, stories, and activities to help upper elementary and middle-grade students learn basic concepts of social media safety, use, and design.
Entrepreneur Press, 9781642011425, 60pp.
Publication Date: October 12, 2021
About the Author
For more than 30 years, Entrepreneur Media, Inc. has set the course for success for millions of entrepreneurs and small business owners. We'll teach you the secrets of the winners and give you exactly what you need to lay the groundwork for success.Show Additional Fields