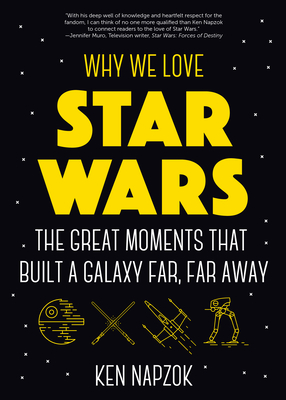 Why We Love Star Wars
The Great Moments That Built a Galaxy Far, Far Away
Paperback

* Individual store prices may vary.
Other Editions of This Title:
Digital Audiobook (8/26/2019)
Description
Explore the Greatest Moments of Star Wars
"With his deep well of knowledge and heartfelt respect for the fandom, I can think of no one more qualified than Ken Napzok to connect readers to the love of Star Wars." ―Jennifer Muro, Television writer, Star Wars: Forces of Destiny
#1 Best Seller in Science Fiction & Fantasy, Guides & Reviews, and Historical & Biographical Fiction
May the Force be with you as you explore the greatest moments of a galaxy far, far away
Celebrate the greatest saga ever told. We all have been deeply influenced by the epic saga of Star Wars and The Mandalorian. Every time the screen goes black, the music fades in, and you see these words―"A Long Time Ago, In A Galaxy Far, Far Away"―nostalgia fills the room. Ken Napzok, expert on all things Star Wars, counts down each one of those special moments that makes this series not just the best movies of all time, but the greatest saga ever told.
Become a scholar of Star Wars. What began as one movie about good people, evil oppressors, and the Jedis that stood between them has exploded into a franchise from the original to The Mandalorian. This book gives you a re-introduction to meeting Princess Leia, Luke, and the very misunderstood Darth Vader.
The perfect Star Wars gift. Spread the love to old and new fans. Countless numbers of us have been inspired by these epic tales. We all have a favorite moment that hooked us like the first time we saw the crackle of Luke Skywalker's lightsaber, the first shots of the ragtag Rebels running from the monstrous Galactic Empire, or the Young Anakin winning the podrace in the Boonta Eve Classic race in 32 BBY.
Why We Love Star Wars: The Great Moments That Built A Galaxy Far, Far Away is the best Star Wars gift for the film buff who has read The Art of Star Wars, Star Wars Year By Year, or The Star Wars Archives.
Mango, 9781642500004, 208pp.
Publication Date: May 15, 2019