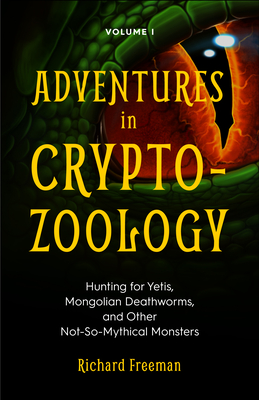 Adventures in Cryptozoology
Hunting for Yetis, Mongolian Deathworms and Other Not-So-Mythical Monsters (Almanac of Mythological Creatures, Cryptoz
Paperback

* Individual store prices may vary.
Description
Discover the Science of (not so) Imaginary Creatures
"The sheer depth of material covered in its pages is amazing"...." ―Fortean Times Magazine
#1 Bestseller in the Occult and Unexplained Mysteries
This is a book about monsters. From an early age we are taught that monsters do not exist. The reality is that monsters walk the earth today.
Explore the world through its most unlikely creatures. Cryptozoology, the study of hidden, monstrous, and legendary animals, is truly the art of discovering the unknown. Richard Freeman, Zoological Director of Centre for Fortean Zoology, has explored the corners of the five continents on the search for creatures that many people believe are non-existent. In this book, he shares the exciting stories of his investigations of the Yeti, Mongolian Deathworm, Loch Ness Monster, Orang-Pendak, Ninki-Naka, and more.
The line between myth and reality may be more narrow than you think. Cryptozoologists throughout the years have studied unknown species of reptiles, lake and sea creatures, apes, and hominins. The science and history of this field of study includes examples of creatures that were once thought to be mythological, but that have since been proven to exist.
Our monsters and ourselves. The history of fabulous beasts and our searches for them is a history of the cultures of the world and the secrets we keep. If you're ready to begin your search for Sasquatch and learn to hunt monsters, Adventures in Cryptozoology is your guide.
In these pages you'll find:
Tales of mythical, extinct, and out-of-place creatures
Hints about Bigfoot and other ape-men
Tips for equipping your own cryptozoology adventure, including all the gear, field craft, and resources you'll need to record your findings
You've read Cryptozoology A to Z, Expedition Unknown, or Chasing American Monsters? Then you'll want to read Adventures in Cryptozoology
Mango, 9781642500158, 252pp.
Publication Date: June 18, 2019