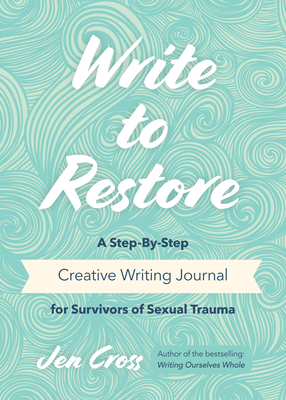 Write to Restore
A Step-By-Step Creative Writing Journal for Survivors of Sexual Trauma (Writing Therapy, Healing Power of Writing)
Paperback

* Individual store prices may vary.
Description
Use Your Words to Heal with This Self-Care Journal
Praise for Jen Cross's Writing Ourselves Whole, the companion to this Write to Restore journal. "This is the most essential book on writing practice I know..." ―Pat Schneider, author of How the Light Gets In and founder of the Amherst Writers & Artists method

#1 Bestseller in Gay & Lesbian Studies

Jen Cross has worked with sexual trauma survivors for over fifteen years and founded an organization that is devoted to creating spaces for survivors to write and talk about their experiences.

A holistic self-care journaling approach to trauma and recovery. Creative writing is increasingly becoming a go-to method for trauma recovery. There is great power in the written word, and even more so when those words are our own. Journaling provides a cathartic release of emotions because it allows us to not only process past experiences but also reflect on how we're feeling in the present moment. In this way, writing is one of the most easily accessible self-care practices.

Give voice to what has been silenced. Healing from trauma can be a slow and painful process, especially for sexual trauma survivors, who are often shamed into keeping their experience to themselves. Write to Restore, a companion journal to Jen Cross's book Writing Ourselves Whole, is a space to put the pain on a page, and in doing so, release the hold it has on us and restore our bodies and minds.

In this self-help journal find:

A 60-day guided journey to healing from your experience
Sixteen writing exercises that gently prompt writers deeper into their experiences and into renewal
Follow-up readings, additional exercises, and suggested uses for your writing
If you've worked through books such as The Body Keeps the Score; The Complex PTSD Workbook; Start Where You Are; Healing the Wounded Heart; or Present, Not Perfect then Write to Restore will provide further support and restoration for your healing process.
Mango, 9781642501063, 126pp.
Publication Date: March 3, 2020