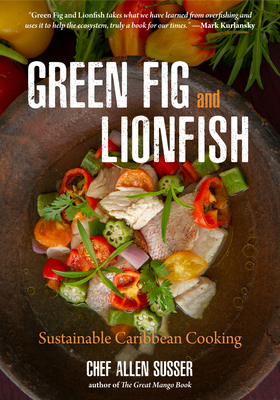 Green Fig and Lionfish
Sustainable Caribbean Cooking (a Gourmet Foodie Gift)
Hardcover

* Individual store prices may vary.
Description
Seasonal Caribbean Lionfish brings together the allure of the Caribbean Sea and the Caribbean island life that is being threatened by the lionfish. It engages readers to understand how this evasive species is damaging our coral reefs and is endangering the delicate balance of marine life. So many locals live happily close to the earth and now depend on a sustained vigilance to enjoy the rhythm of nature. The venomous lionfish must be hunted by divers who individually spear each fish for market. Intriguingly this fish may seem a bit more dangerous to eat - but fear not. The lionfish has the starring role of good vs evil. Good to eat and enjoy its succulent flavor, yet bad for the fragile coral reef environment if left unchecked. My mission is to get people excited about eating lionfish and at the same time rewarding them for benefiting the environment sustainably. It is a revealing, how to cook lionfish cookbook about sustainability and Caribbean adventure. The colorful mosaic of its people and magnificent array of seasonal ingredients make this corner of the world a dynamic cultural food exchange. Cooking in season and local takes advantage of the best tasting ingredients at peak ripeness. Join the culinary seasonal journey exploring locally farmed and exotic tropical tastes including: mango, papaya, pineapple, passion fruit, coconut, plantains, dasheen, Malibar spinach, avocado, limes and bread fruit. This lionfish cookbook is a practical guide to unpretentious fish cooking with big and bold Caribbean flavors. Discover how to blend the spices of the Caribbean into your cooking, while using easy to understand techniques. Recipe examples include lionfish coconut ceviche, pan roasted lionfish with passionfruit, banana leaf grilled lionfish, and spicy lionfish tacos with mango chow chow. These delicious recipes allow plenty of room for the talented fun-loving home cook or professional to cook flexibly and think creatively.
Books & Books, 9781642501643, 224pp.
Publication Date: December 3, 2019