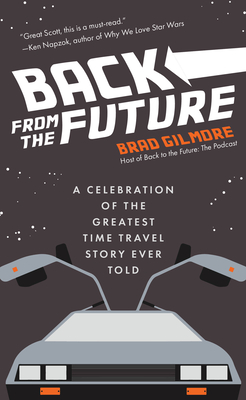 Back from the Future
A Celebration of the Greatest Time Travel Story Ever Told
Hardcover

* Individual store prices may vary.
Other Editions of This Title:
Digital Audiobook (4/13/2020)
Paperback (12/2/2021)
Description
A Fan's Look at the Back to the Future Franchise
"Brad Gilmore's book not only offers new perspectives and a deeper understanding of Back to the Future, it reminds us why we fell in love with it in the first place." ─Mark Ellis, Comedian & Movie Critic
#1 Bestseller in Movies, Guides & Reviews

There's a host of information out there on the Back to the Future trilogy, but never before has there been a book like this.
The history of the films, cartoons, toys, and more. The Back to the Future series is a timeless collection greatly revered by all audiences. The beauty of this book by Brad Gilmore is that it doesn't present the history of the film as textbook information. He discusses these films from a place of passion and so effectively reveals how the history behind the movies is just as engaging as the films themselves.
Unheard details and trivia. Gilmore, a radio and television host and host of Back to the Future: The Podcast, is an expert on all things Back to the Future. Pairing his knowledge with his passion for the films, Gilmore uses this book to discuss details and movie trivia that reveal just why the trilogy has stood the test of time. As a fan speaking to fellow fans, he dives into fan theories and provides answers to many questions readers have--because they are the very questions he himself has asked.
Check out this must-have book and learn things you never knew:
Completed timelines of all the main characters from the franchise
In-depth studies of various Back to the Future fan theories that will surprise and intrigue you
A detailed comparison of the films' predictions of the future to our world today
Fans of books like Back to the Future: The Classic Illustrated Storybook, Back to the Future: The Ultimate Visual History, Back to the Future: Untold Tales and Alternate Timelines, or We Don't Need Roads: The Making of the Back to the Future Trilogy, will love Back From the Future.
Mango, 9781642502053, 164pp.
Publication Date: April 14, 2020