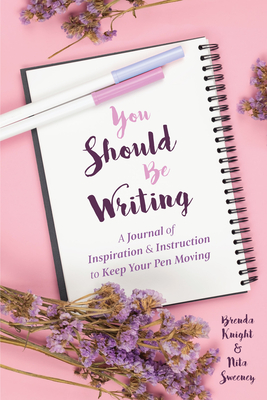 You Should Be Writing
A Journal of Inspiration & Instruction to Keep Your Pen Moving (Journaling & Writing Skills Tips)
Paperback

* Individual store prices may vary.
Description
Write Like an Expert
"This journal is a must-have for writers everywhere. With quotes from a diverse group of historical and modern authors to use as creative prompts on every page, you'll be able to bring your writing inspiration with you wherever you go." --Sassy Townhouse Living

#1 New Release in Quotation References

From famous all-time-great poets like T.S. Eliot to modern creatives like Roxane Gay, the selected writing quotes in this journal aim to instruct and inspire you to become a better writer.

Writing Inspiration from Incredible Authors. Gathered by Brenda Knight and writing coach Nita Sweeney, author of Depression Hates a Moving Target, You Should Be Writing provides you with writing wisdom from a variety of accomplished authors.

Creative Writing Practice for Every Genre. This writing journal with prompts helps you practice a wide variety of writing skills. The excerpts and prompts include:

General advice: "Protect the time and space in which you write. Keep everybody away from it, even the people who are most important to you." - Zadie Smith
Helpful instructions: "If you scribble your thoughts any which way, your reader will surely feel that you care nothing about them." - Kurt Vonnegut
Genre-specific writing ideas and tips for particular areas of writing, such as poetry or storytelling: "For those whose bucket-list entails seeing their name on the spine of a book, it boils down to the power of persistence." - Marlene Wagman-Geller
If you were inspired by the creative writing prompts and advice in 642 Things to Write About, Complete the Story Journal, or Piccadilly 300 Writing Prompts, you'll love Brenda's and Nita's You Should Be Writing: A Journal of Inspiration & Instruction to Keep Your Pen Moving.
Mango, 9781642502558, 180pp.
Publication Date: June 16, 2020