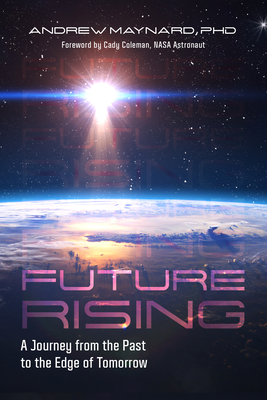 Future Rising
A Journey from the Past to the Edge of Tomorrow (Future of Humanity, Social Aspects of Technology)
Hardcover

* Individual store prices may vary.
Other Editions of This Title:
Digital Audiobook (10/21/2020)
Description
A Compelling Vision of the Future
"Maynard has written a thoughtful and thought-provoking response to the moment we're in, chronicling how we got here, where we're going, and what role we have in that journey" ―Ramona Pringle, Director of Creative Innovation Studio and Associate Professor, Ryerson University
#1 New Release in Science & Math and Physics of Time
Human beings can―and do―change the future. Humanity has gained the ability not only to imagine the future, but to design and engineer it. At times entertaining, and at others profound, Future Rising provides an original perspective on our relationship with the future.
We have a responsibility to change the future for the better. As a species, we have become talented architects of our future. And yet, we so often struggle to come to terms with what this means. As innovation and rapidly shifting norms and expectations drive our world at breakneck speed, we sometimes need to find a still, quiet place to pause and think. Future Rising sets out to create such a quiet place, where we can take advantage of our species' knowledge of world history, and the importance of science to piece together a positive future.
To create a good future, rediscover the past. Our relationship with the future is inextricably intertwined with where we've come from, who we are, and what we aspire to. Written to be easy to pick up and hard to put down, Future Rising starts at the beginning of all things with the Big Bang and traces a pathway along the emergence of intelligent life, through what makes humans uniquely capable of imagining and creating different futures.
If you enjoy nonfiction science and history books like Life 3.0, The Future of Humanity, or Superintelligence, then you'll love Future Rising. In a series of sixty short reflections, Future Rising will take you on a journey into:
What "the future" actually is
How it molds and guides our lives
How we can use the history of the world to change our future
Mango, 9781642502633, 220pp.
Publication Date: October 27, 2020