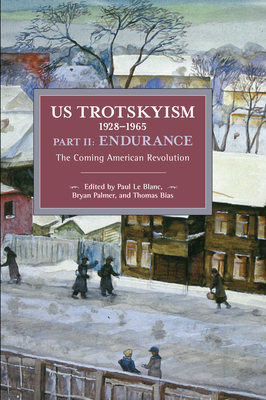 Us Trotskyism 1928-1965 Part II (Paperback)
Endurance: The Coming American Revolution. Dissident Marxism in the United States: Volume 3 (Historical Materialism)
Haymarket Books, 9781642590579, 836pp.
Publication Date: November 26, 2019
Other Editions of This Title:
Paperback (11/26/2019)
Paperback (11/15/2019)
* Individual store prices may vary.
Description
U.S. Trotskyism 1928-1965 Part II: Endurance is the second volume in a documentary trilogy on a revolutionary socialist split-off from the U.S. Communist Party, reflecting Leon Trotsky's confrontation with Stalinism in the global communist movement. Spanning 1941 to 1956, this volume surveys the Second World War (internationally and on the "homefront"), the momentous post-war strike wave, ongoing efforts to comprehend and struggle against racism, as well as the early years of the Cold War and anti-communist repression in the United States. Also covered are internal debates and splits among Trotskyists themselves, including a far-reaching split in the international Trotskyist movement (the Fourth International) in the face of a persistent and expanding Stalinism. Scholars and activists will find much of interest in these primary sources.
About the Author
Paul Le Blanc is Professor of History at La Roche College (Pittsburgh). He has written extensively on labour and social struggles, including A Short History of the U.S. Working Class (Prometheus Books, 1999), the acclaimed short biography Leon Trotsky (Reaktion Books, 2015), and most recently October Song: Bolshevik Triumph, Communist Tragedy, 1917-1924(Haymarket Books, 2017). Bryan Palmer is Professor of History at Trent University. His books include studies of British labour historian E. P. Thompson and U.S. Communist and Trotskyist leader James P. Cannon, and Revolutionary Teamsters: The Minneapolis Truckers' Strikes of 1934 (Brill, 2014). Thomas Bias has served on the editorial boards of Bulletin in Defense of Marxism and Labor Standard, and is editor of the 1989 anthology Upheaval in China.