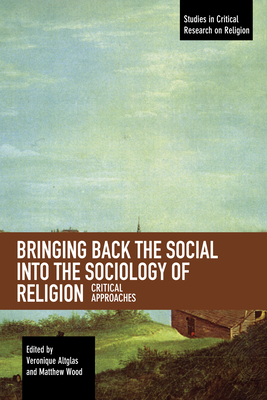 Bringing Back the Social Into the Sociology of Religion (Paperback)
Critical Approaches (Studies in Critical Research on Religion)
Haymarket Books, 9781642590753, 220pp.
Publication Date: October 8, 2019
Other Editions of This Title:
Hardcover (7/5/2018)
* Individual store prices may vary.
Description
The contributors to Bringing Back the Social into the Sociology of Religion explore how 'bringing the social back into the sociology of religion' makes possible a more adequate sociological understanding of such topics as power, emotions, the self, or ethnic relations in religious life. In particular, they do so by engaging with social theories and addressing issues of epistemology and scientific reflexivity. The chapters of this book cover a range of different religious traditions and regions of the world such as Sufism in Pakistan; the Kabbalah Centre in Europe, Brazil and Israel; African Christian missions in Europe; and Evangelical Christianity in France and Oceania. They are based upon original empirical research, making use of a range of methods - quantitative, ethnographic and documentary.
Contributors are: V ronique Altglas, Peter Doak, Yannick Fer, Gwendoline Malogne-Fer, Christophe Monnot, Eric Morier-Genoud, Alix Philippon, Matthew Wood.