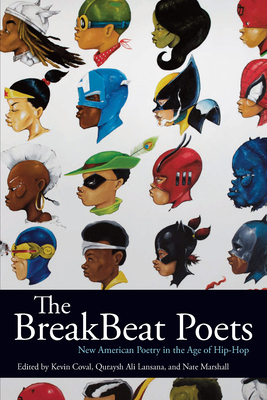 The Breakbeat Poets
New American Poetry in the Age of Hip-Hop
Hardcover

* Individual store prices may vary.
Other Editions of This Title:
Paperback (4/7/2015)
Description
Hip-Hop is the largest youth culture in the history of the planet rock. This is the first poetry anthology by and for the Hip-Hop generation.
It has produced generations of artists who have revolutionized their genre(s) by applying the aesthetic innovations of the culture.
The BreakBeat Poets
features 78 poets, born somewhere between 1961-1999, All-City and Coast-to-Coast, who are creating the next and now movement(s) in American letters.
The BreakBeat Poets
is for people who love Hip-Hop, for fans of the culture, for people who've never read a poem, for people who thought poems were only something done by dead white dudes who got lost in a forest, and for poetry heads. This anthology is meant to expand the idea of who a poet is and what a poem is for. The BreakBeat Poets are the scribes recording and remixing a fuller spectrum of experience of what it means to be alive in this moment. The BreakBeat Poets are a break with the past and an honoring of the tradition(s), an undeniable body expanding the canon for the fresher.
Haymarket Books, 9781642591057, 376pp.
Publication Date: September 20, 2019
About the Author
Kevin Coval is the author of Schtick, L-vis Lives: Racemusic Poems, Everyday People and the American Library Association "Book of the Year" Finalist Slingshots: A Hip-Hop Poetica. He is the founder of Louder Than a Bomb: The Chicago Youth Poetry Festival, Artistic Director at Young Chicago Authors, and teaches at the University of Illinois at Chicago. Quraysh Ali Lansana is the author of eight poetry books, three textbooks, a children's book, editor of eight anthologies, and coauthor of a book of pedagogy. He is a faculty member of the Creative Writing Program of the School of the Art Institute and the Red Earth MFA Creative Writing Program at Oklahoma City University. He is also a former faculty member of the Drama Division of The Juilliard School. Lansana served as Director of the Gwendolyn Brooks Center for Black Literature and Creative Writing at Chicago State University from 2002-2011, where he was also Associate Professor of English/Creative Writing. Our Difficult Sunlight: A Guide to Poetry, Literacy & Social Justice in Classroom & Community (with Georgia A. Popoff) was published in March 2011 by Teachers & Writers Collaborative and was a 2012 NAACP Image Award nominee. His most recent books include The Walmart Republic w/ Christopher Stewart and reluctant minivan. Nate Marshall is the author of Wild Hundreds. He won the Agnes Lynch Starrett Prize and served as a Zell Postgraduate Fellow at the University of Michigan. A Cave Canem Fellow, Nate won the 2014 Hurston/Wright Founding Members Award and the 2013 Gwendolyn Brooks Open Mic Award. He is a founding member of the poetry collective Dark Noise. He is also a rapper.