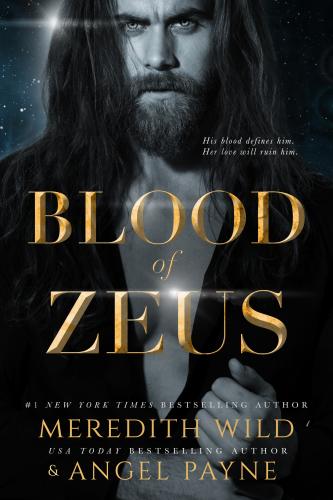 Blood of Zeus
Blood of Zeus: Book One
Paperback

* Individual store prices may vary.
Description
An ancient grudge. A forbidden love.

The only thing worse than being a demon is being a Valari. As an undergraduate at Los Angeles's Alameda University, Kara Valari can sometimes succeed at forgetting she's both. Lost between the pages of the classics and tucked into the shadows of lecture halls, she can dodge the paparazzi's lenses as well as her family's publicized dramas—not to mention their private expectations. She has one more year to feed her true passions. Then she'll be expected to fulfill a much darker destiny.

Cursed with inexplicable strength and godlike stature, literature professor Maximus Kane knows all about darkness. Every day he's reminded of the missteps of his childhood and the devastating consequences they've had on those dearest to him. To atone, Maximus spends his nights alone and his days submerged in the quiet life of academia. His existence has become a study in control, and he's become a master at it—until Kara Valari walks into his toughest course.

Viscerally, Kara's everything he craves. Logically, she's everything he rejects. She's a starlet of privilege. She's also a student. And after one touch, he can't deny that she's awakened something in him that may never go dormant. Nothing about her makes sense, but everything about her feels right. Especially in the deepest strands of his DNA, which are still shadows of mystery to him—a mystery Kara seems determined to uncover.

She's Hollywood royalty. She's forbidden fruit. And he's pretty sure she could be the answer to everything.
Praise For Blood of Zeus: Blood of Zeus: Book One…
"Blood of Zeus is a dynamic and uniquely alluring paranormal romance! This author duo knows how to scorch the pages and tug at our imaginations. I can't wait for more!"
— NYT Bestselling Author Carrie Ann Ryan

WOW! WHAT A RIDE! Meredith Wild and Angel Payne's collaboration on BLOOD OF ZEUS will have you on the edge of your seat! Paranormal romance is not a genre I typically choose to read, but these two talented ladies' BLOOD OF ZEUS has converted me. You will fall in love with Kara and Maximus. This story is sexy and smart and a perfect escape. I loved it!
— D.D Lorenzo

"Sinfully sexy, dark, and delicious! Blood of Zeus is Payne and Wild at their best!"
— Katana Collins

"Loved this read so much! I shouted out loud when I finished. I must, must, must have the next book NOW."
— Larissa Ione, New York Times bestselling author of the Demonica Series
Waterhouse Press LLC, 9781642632187, 320pp.
Publication Date: August 25, 2020
About the Author
Meredith Wild is a #1 New York Times, USA Today, and international bestselling author. She lives on Florida's Gulf Coast with her husband and three children. She refers to herself as a techie, whiskey appreciator, and sun worshipper. She has been featured on CBS This Morning and the Today Show, and in the New York Times, the Hollywood Reporter, Publishers Weekly, and the Examiner. Her foreign rights have been sold in twenty-three languages.

USA Today bestselling romance author Angel Payne loves to focus on high-heat romance starring memorable alpha men and the women who love them. She has numerous book series to her credit, including the action-packed Bolt Saga and Honor Bound series, the Shark's Edge and Secrets of Stone series (with Victoria Blue), the intertwined Cimarron and Temptation Court series, the Suited for Sin series, and the Lords of Sin historicals, as well as several standalone titles.

Angel is a native Southern Californian, leading to her love of being in the outdoors, where she often reads and writes. She still lives in Southern California with her soul-mate husband and beautiful daughter, to whom she is a proud cosplay/culture con mom. Her passions also include whisky tasting, shoe shopping, and travel.