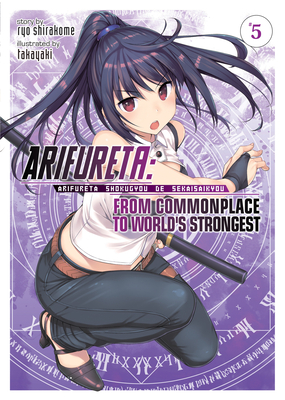 Arifureta (Paperback)
From Commonplace to World's Strongest (Light Novel) Vol. 5
Seven Seas, 9781642750171, 280pp.
Publication Date: April 2, 2019
* Individual store prices may vary.
Description
THE NEXT LABYRINTH
With the addition of Kaori into their party, Hajime and his friends make for the coastal city of Erisen. While crossing the Gruen Desert, they meet a young man on the hunt for a cure to a mysterious disease that has struck his people. A mineral known as stillrock holds the key to saving his country, but it can only be found inside the Grand Gruen volcano. Hajime agrees to help him procure some, and the party begins their quest to conquer yet another labyrinth. But along the way, they meet the most unexpected foe…
About the Author
Ryo Shirakome is a Japanese author best known for Arifureta: From Commonplace to World's Strongest.

Takaya-ki is a Japanese artist best known for their illustrations in Arifureta: FromCommonplace to World's Strongest.
Praise For Arifureta: From Commonplace to World's Strongest (Light Novel) Vol. 5…
"...Hajime has to learn how to become superpowered and how to become a hero all on his own. It's a good twist on the genre conventions and really points out (through the parallel character of the class prince) that just having the powers isn't enough to make you a real warrior, much less hero." --Rebecca Silverman, Anime News Network