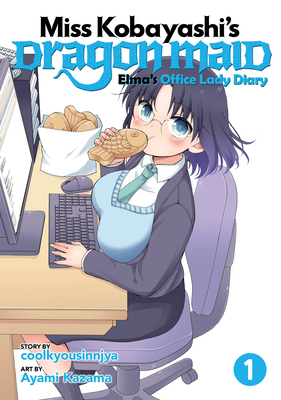 Miss Kobayashi's Dragon Maid (Paperback)
Elma's Office Lady Diary Vol. 1
Seven Seas, 9781642750348, 180pp.
Publication Date: February 26, 2019
* Individual store prices may vary.
Description
An all-new story about the work-and-eat life of Elma from Miss Kobayashi's Dragon Maid!

Some people live to work, others work to live. But Elma works to…eat! Elma is a Harmony Dragon who came to the human world to bring fellow dragon Tohru back home. In order to stay close to Tohru, Elma has taken a job as an office lady (OL). This charming new series from the world of Miss Kobayashi's Dragon Maidfollows the 9-to-5 adventures of Elma as she learns to work and eat her way through the OL life. From mixed-up mixers to death marches, Elma learns that being an OL is just as hard as being a dragon…
About the Author
Coolkyoushinja is a Japanese creator best known for his works Komori-san Can't Decline, I Can't Understand What My Husband Is Saying, and Miss Kobayashi's Dragon Maid—all of which have received anime adaptations.