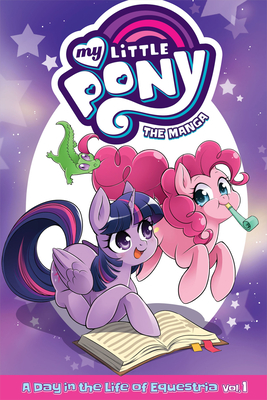 My Little Pony
The Manga - A Day in the Life of Equestria Vol. 1
Paperback

* Individual store prices may vary.
Other Editions of This Title:
Paperback (7/6/2021)
Paperback (3/16/2021)
Paperback (4/7/2020)
Description
An all-new manga series set in the world of Hasbro's My Little Pony: Friendship is Magic!

The world of My Little Pony comes alive in this distinctive manga series that spotlights each of the Mane 6 and a host of other characters from the land of Equestria! When Pinkie Pie lends a hoof to help Twilight Sparkle and Spike clean up the castle Library, she discovers a mysterious mirror with the power to gaze into alternate realities. Upon entering the portal-like mirror, Pinkie Pie sets off a chain of events that could spell doom for Equestria! Follow this adventure–and many more–in this hilarious new manga series for fans of all ages.
Seven Seas, 9781642750515, 120pp.
Publication Date: June 18, 2019
About the Author
Shiei is the artist for Aoi House. She is the most prolific Original English Language manga artist in the US, having completed 3 volumes of Aoi House and 4 volumes of Amazing Agent Luna so far. Shiei resides in Southern California.