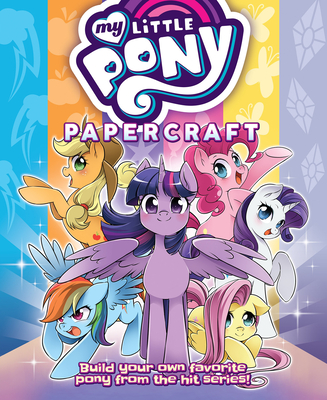 My Little Pony
Friendship is Magic Papercraft
Paperback

* Individual store prices may vary.
Description
My Little Pony comes to 3D life in this book of paper crafts!

Fans of My Little Pony: Friendship is Magic can now bring their favorite characters to life using this unique craft book! Featuring original templates that come pre-scored and die-cut, each paper character is ready to pop out, fold, and glue. The adorable designs and simple instructions make this a fun collectible for My Little Pony fans of all ages.

CHARACTER LINE-UP:

Twilight Sparkle | Rainbow Dash | Fluttershy | Pinkie Pie | Rarity | Applejack | Spike | Princess Celestia | Princess Luna | Princess Cadance | Shining Armor | Starlight Glimmer | Trixie | Big McIntosh | Zecora | Scootaloo | Sweetie Belle | Apple Bloom | Flurry Heart

*BONUS* Extra blank patterns so you can create your own ponies!
Seven Seas, 9781642750522, 160pp.
Publication Date: November 24, 2020
About the Author
El Joey Designs is a designer from Mexico who specializes in custom paper craft templates for a variety of anime series.