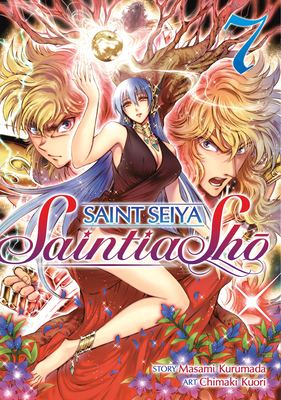 Saint Seiya (Paperback)
Saintia Sho Vol. 7
Seven Seas, 9781642751246, 180pp.
Publication Date: August 6, 2019
Other Editions of This Title:
Paperback (5/5/2020)
Paperback (8/4/2020)
Paperback (3/17/2020)
Paperback (11/12/2019)
Paperback (5/21/2019)
Paperback (2/19/2019)
Paperback (11/27/2018)
Paperback (5/22/2018)
Paperback (8/21/2018)
Paperback (11/17/2020)
* Individual store prices may vary.
Description
A HOUSE DIVIDED

In order to sever Kyoko's ties to the human world, Kyoko's minions are all coming for Shoko's head! But Kyoko isn't too happy about this plan. Can she control her underlings and protect her little sister, or will Shoko have to fend for herself?
About the Author
Chimaki Kuori is a Japanese manga creator best known for contributions to Persona 4 and Gundam Seed anthologies. Saint Seiya: Saintia Sho is Chimaki Kuori's most recent series.
Praise For Saint Seiya: Saintia Sho Vol. 7…
"As a comforting reminder or a bid to tap into 1980s nostalgia, it's perfect: the fights are brisk, hot-blooded, flashy affairs full of posturing, and the melodrama is loud and teary, exactly as Kurumada would have drawn it." --Otaku USA Magazine

"Saint Seiya: Saintia Sho has the appearance of a shojo series, but it's got the spark and spirit of a shonen. Drawn beautifully on every page, the characters and the worlds they're surrounded in feel very reminiscent of Chiho Saito's Revolutionary Girl Utena." --Boston Bastard Brigade

"Overall I really enjoyed this opening bravado to Saintia Sho. Shoko is the kind of female lead I like to follow in an action series: she adapts quickly to new situations, she already has some martial arts prowess so she isn't completely helpless when attacked by supernatural forces, and she's not a hot-headed idiot who gets herself into more trouble than she gets herself out of." --The OASG
"Saint Seiya: Saintia Sho Volume 1 is a great entry into the Saint Seiya franchise for modern anime fans, as well as a great start to a newer magical girl series. With a suggested "Teen" rating, the volume isn't too violent or graphic, on par with series like Sailor Moon. I look forward to seeing where the series goes, and with an anime adaptation slated for 2019, now seems like a great time to hop in." --A-to-J Connections