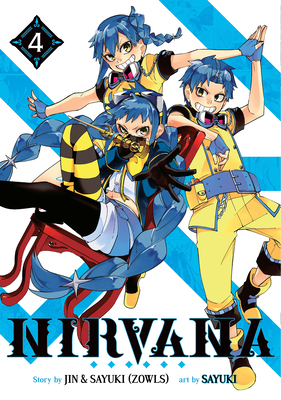 Nirvana Vol. 4 (Paperback)
Seven Seas, 9781642756913, 180pp.
Publication Date: September 3, 2019
* Individual store prices may vary.
Description
THE NIDANA OF LIGHTNING IS CHOSEN!

The Granheim ceremony is thrown into chaos when Yachiyo is captured by Sara, who has turned into a Blau. Although everyone blames the Wappen siblings, they are still determined to save Yachiyo; when they do, they'll learn the true face of their enemy. As danger brims over during the ceremony of Country of the "Rat," the "Rat" of "the Twelve" awakens and a new avatar appears! Little by little, Yachiyo's existence begins to move the world…
About the Author
ZOWLS is a duo comprised of Jina and Sayuki.

Jina is a Japanese author best known for Nirvana and his submission to the Trinity Seven Comic Anthology.

Sayuki is a Japanese manga artist best known for Gekka no Hazure Gedou and Nirvana.