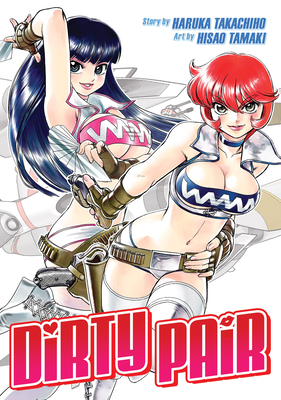 Dirty Pair Omnibus (Manga) (Paperback)
Seven Seas, 9781642757538, 360pp.
Publication Date: December 17, 2019
* Individual store prices may vary.
Description
LET'S GET DIRTY!
Kei and Yuri, known as the Lovely Angels–or the notorious Dirty Pair, depending on who you ask–work as "trouble consultants" for the galactic Worlds Welfare and Works Association (WWWA). But in their pursuit of space-wide justice, they cause space-wide disaster! The chaotic (and strangely successful) exploits of these interstellar agents come alive in this two-in-one manga omnibus by Haruka Takachiho and Star Wars: A New Hope manga artist Hisao Tamaki!
"I'm delighted to see Hisao Tamaki, an almost criminally underrated mangaka, bring his high-energy sauciness to the Lovely Angels' very earliest escapades." - Adam Warren (Dirty Pair, Empowered)
About the Author
Haruka Takachiho is a longtime and popular Japanese science fiction writer best known for Crusher Joe, Dirty Pair, and founding Studio Nue.
Hisao Tamaki is a Japanese manga artist best known for the manga adaptations of Dirty Pair and Star Wars: A New Hope.
Praise For Dirty Pair Omnibus (Manga)…
"I'm delighted to see Hisao Tamaki, an almost criminally underrated mangaka, bring his high-energy sauciness to the Lovely Angels' very earliest escapades." – Adam Warren (Dirty Pair, Empowered)