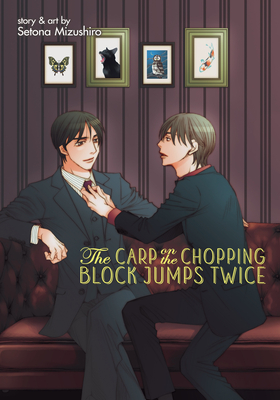 The Carp on the Chopping Block Jumps Twice (The Cornered Mouse Dreams of Cheese #2) (Paperback)
Seven Seas, 9781642757606, 304pp.
Publication Date: February 11, 2020
* Individual store prices may vary.
Description
The sequel to The Cornered Mouse Dreams of Cheese, the compelling LGBT+ drama!

Ootomo Kyoichi, a weak-willed salaryman in a troubled marriage, is cheating on his wife. To his surprise, his wife hires a private eye to expose his affair–and the private eye is none other than Imagase, an underclassman Kyoichi knew in college. Imagase explains that he's gay and always had a crush on Kyoichi, so he offers to hide the infidelity in exchange for the make-out session he'd always fantasized about back in college. Kyoichi reluctantly agrees, thinking it will save his marriage, but things with Imagase soon spiral out of control.
About the Author
Setona Mizushiro, nominated for an Eisner Award in 2007, is a prolific Japanese creator behind many works already translated into English: X-Day, After School Nightmare, and Black Rose Alice. Her josei series The Cornered Mouse Dreams of Cheese is her first Boys' Love/BL work to be published in English.