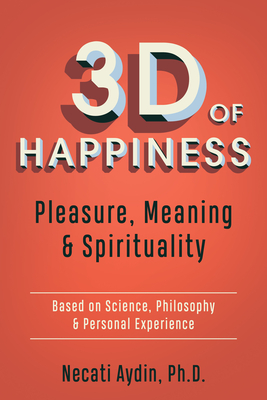 3D of Happiness
Pleasure, Meaning & Spirituality Based on Science, Philosophy & Personal Experience
Paperback

* Individual store prices may vary.
Description
3D of Happiness shows that the failure in finding happiness in modern times is largely due to the mistake of limiting the search for happiness to the hedonic (pleasure) dimension. It delves into the meaning and spiritual dimensions of happiness in order to help individuals increase their levels of happiness.
3D of Happiness covers a personal and scientific journey of searching for happiness through pleasure, meaning, and spirituality. It is the story of a former shepherd, Necati Aydin, who was at the bottom 1% of the world's population, living in complete poverty and deprivation. He managed to acquire two PhDs and climbed to the top 1% in terms of possessions and position. Nonetheless, he failed to achieve happiness along the way. In 3D of Happiness, Necati shares his journey of having, doing, and being which turned out to be a cycle of deprivation, emulation, accomplishment, and disappointment. He reveals his success in finally finding happiness through a converging path of science, philosophy, and spirituality.
Morgan James Publishing, 9781642796971, 244pp.
Publication Date: May 19, 2020