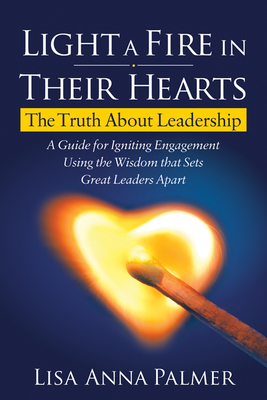 Light a Fire in Their Hearts
The Truth about Leadership
Paperback

* Individual store prices may vary.
Description
Light a Fire in Their Hearts helps to set great leaders apart by helping them connect with others on a human level.
Light a Fire in Their Hearts is unique and appealing in that, Lisa Anna Palmer, uses a highly conversational style and speaks directly to new and aspiring leaders, including from team leader, manager and director. Within Light a Fire in Their Hearts, Lisa engages readers as though she were accompanying them, side by side, to help them figure out what the leadership journey is all about. In addition, Lisa shares her own personal stories, as well as stories from over 30 great leaders who share their tips, tools, and strategies to engage others to contribute their very best-consider them your team of virtual mentors.
The goal of Light a Fire in Their Hearts is to help high performers to:

Understand the importance of leadership and the impact on people and the planet, in addition to the bottom-line Self-reflect on their leadership journey and how they want to show up as a leader at work Learn more about the challenges that they will face that they don't typically teach you about in school Understand the transformation that needs to take place to shift from high performing individual contributor and/or team member to become a Great People Leader Learn about the Light Your Leadership Brand(c) approach to light a fire in the hearts of employees, which features wise practices of great leaders.
Morgan James Publishing, 9781642798272, 322pp.
Publication Date: August 11, 2020