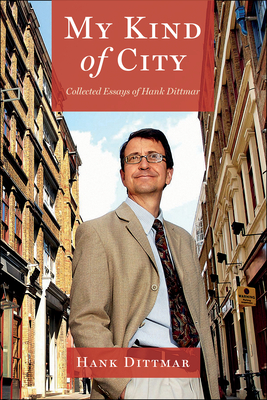 My Kind of City (Hardcover)
Collected Essays of Hank Dittmar
Island Press, 9781642830361, 256pp.
Publication Date: August 20, 2019
* Individual store prices may vary.
Description
"Hank lived by the credo 'first listen, then design.'"
—Scott Bernstein, Founder and Chief Strategy + Innovation Officer, Center for Neighborhood Technology
 
Hank Dittmar was a globally recognized urban planner, advocate, and policy advisor. He wrote extensively on a wide range of topics, including architectural criticism, community planning, and transportation policy over his long and storied career.
 
In My Kind of City, Dittmar has organized his selected writings into ten sections with original introductions. His observations range on scale from local ("My Favorite Street: Seven Dials, Covent Garden, London") to national ("Post Truth Architecture in the Age of Trump") and global ("Architects are Critical to Adapting our Cities to Climate Change"). Andrés Duany writes of Hank in the book foreword, "He has continued to search for ways to engage place, community and history in order to avoid the tempting formalism of plans."
 
The range of topics covered in My Kind of City reflects the breadth of Dittmar's experience in working for better cities for people. Common themes emerge in the engaging prose including Dittmar's belief that improving our cities should not be left to the "experts"; his appreciation for the beautiful and the messy; and his rare combination of deep expertise and modesty. As Lynn Richards, CEO of Congress for the New Urbanism expresses in the preface, "Hank's writing is smart without being elitist, witty and poetic, succinct and often surprising."

My Kind of City captures a visionary planner's spirit, eye for beauty, and love for the places where we live.
 
About the Author
Hank Dittmar (1956–2018) was the founding principal of Hank Dittmar Associates, an international urban planning firm. Before that, he was chief executive of The Prince's Foundation for Building Community, founding president and CEO of Reconnecting America, and executive director of the Surface Transportation Policy Partnership. His long, varied career included service as a regional planner, airport director, policy advisor, and outreach worker with street gangs in Chicago. He published extensively on planning, urban design, and architecture.  
Praise For My Kind of City: Collected Essays of Hank Dittmar…
"Hank Dittmar said that Christopher Alexander changed his life. I'm happy to say that Hank changed mine. It's hard to describe how enriching it was to work alongside such an insightful leader and observer of our built environment. Fortunately, for future generations of urbanists My Kind of City reveals some of Hank's finest thinking, especially the ways in which he delighted in the complex interactions between people, culture, design, and place."
— Don Chen, President, Surdna Foundation
"This book of essays is a joy to read. Hank's writing is smart without being elitist, witty and poetic, succinct and often surprising. Hank's approach to life—and to cities—was to embrace the 'messy'—a word he uses to good effect in key passages in this book. As he notes in the opening section (a series of love letters to complicated places), cities are 'hard to plan, easy to ruin, yet surprisingly adaptable and resilient.'"
— Adapted from the preface by Lynn Richards, President and CEO, Congress for the New Urbanism
"Hank shows a rare sensibility within his profession: He has obviously been much moved by beauty. In these essays, he has contributed to the emerging belief that there are certain aesthetic constants across culture, time, and class, and that these can be objectively apprehended and taught."
— From the foreword by Andres Duany, Partner, DPZ Partners