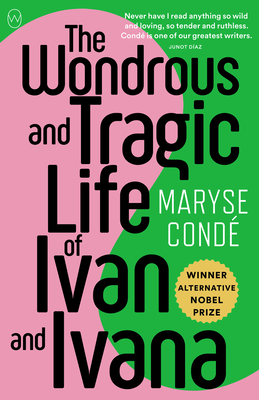 The Wondrous and Tragic Life of Ivan and Ivana
Paperback

* Individual store prices may vary.
Description
Born in Guadeloupe, Ivan and Ivana are twins with a bond so strong they become afraid of their feelings for one another. When their mother sends them off to live with their father in Mali they begin to grow apart, until, as young adults in Paris, Ivana's youthful altruism compels her to join the police academy, while Ivan, stunted by early experiences of rejection and exploitation, walks the path of radicalization. The twins, unable to live either with or without each other, become perpetrator and victim in a wave of violent attacks. In The Wondrous and Tragic Life of Ivan and Ivana, Maryse Cond , winner of the 2018 Alternative Nobel prize in literature, touches upon major contemporary issues such as racism, terrorism, political corruption, economic inequality, globalization, and migration. With her most modern novel to date, this master storyteller offers an impressive picture of a colorful yet turbulent 21st century.
World Editions, 9781642860696, 368pp.
Publication Date: May 5, 2020
1. How do you interpret the reference to William Shakespeare's Hamlet on the very first page of the novel?
2. What role does gender play in determining the fates of Ivan and Ivana?
3. How much control do Ivan and Ivana have over their lives, and how much rests in the hands of other forces—their mother, their father, society, racism, etc?
4. What do you think of the character of the dibia? How does he influence the characters and plot of the novel? Do you have a sort of dibia in your own life?
5. What role does religion play in the forces of radicalization? What role does gender play?
6. How do you interpret the first-person plural narrator that appears throughout?
7. How does oral tradition inform the novel in terms of structure, plot, etc?
8. On page 161, the narrator admits, "Once again we have very little reliable information as to what happened next." From where do you think the narrator has gotten this story? How many iterations of the story must there be, and what version of it do you think this is?
9. How does the presence of an unreliable narrator change the way you absorb the story?
10. What is the role of geography in the novel? How does it affect the fates of the twins? In what ways is it its own character?