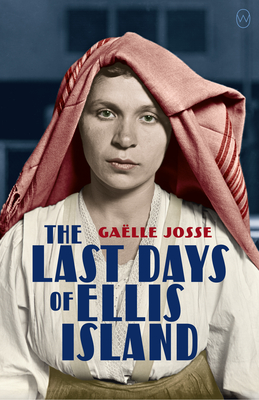 The Last Days of Ellis Island
Paperback

* Individual store prices may vary.
Description
Winner of the European Union Prize for Literature
"Josse powerfully evokes the spirit of the 'huddled masses' who landed on America's shores while creating a memorable portrait of a man torn between his commitment to his difficult job and the longings of his heart. Duty and desire clash in the melancholy reminiscences of a former Ellis Island immigration officer." --Kirkus, *Starred Review*
New York, November 3, 1954. In a few days, the immigration inspection station on Ellis Island will close its doors forever.
John Mitchell, an officer of the Bureau of Immigration, is the guardian and last resident of the island. As Mitchell looks back over forty-five years as gatekeeper to America and its promise of a better life, he recalls his brief marriage to beloved wife Liz, and is haunted by memories of a transgression involving Nella, an immigrant from Sardinia. Told in a series of poignant diary entries, this is a story of responsibility, love, fidelity, and remorse.
"French novelist Josse's melancholy English-language debut looks at the last few days in 1954 before Ellis Island was officially shuttered as a port of entry into the U.S. (...) Josse's powerful work finds the human heart within a career bureaucrat." --Publishers Weekly
"Gripping...The Last Days of Ellis Island is an absorbing novel in which beloved dreams are fast to shatter." --Foreword Reviews
World Editions, 9781642860719, 208pp.
Publication Date: November 24, 2020
1. How successful do you think Josse is in evoking the detail and atmosphere of the station at Ellis Island? Did you feel taken back to the time and place?
2. What do you think of the atmospheric and dreamy style used by Josse? How does it make you feel?
3. We see the narrator recounting his past life, but not necessarily involved in m/any actions in the present. What do you imagine him to spend these last days doing when he isn't writing in his diary? What sort of character do you imagine him to have?
4. Did your opinion of him change drastically throughout the course of the novel? Were you surprised at his behavior, or maybe at his reactions to his own behavior?
5. What do you think happened to Nella after leaving the station? Can you imagine her next few months, or even years? Where do you think she is now?
6. Have you or any of your family been affected my immigration/emigration? If so, how?
7. Or perhaps you even had ancestors that passed directly through the Ellis Island station itself. If so, how do you feel about Josse's fictionalization of their experience?
8. How far do you think we have come from the events narrated in the novel? Thinking about ideas such as nation-building, immigration, alienation – what do you think has changed and what has stayed the same?
9. At the end of the book, Josse gives a little bit of insight into her visit to Ellis Island; she describes her shock and "vertigo" at being in that particular place. Have you ever been overwhelmed by such a sense of "placeness," perhaps at a site of personal, national, or international history? If so, could you describe your experience?
10. What do you think Josse's intentions were in writing this novel?
11. What did you think of the ending to the story?