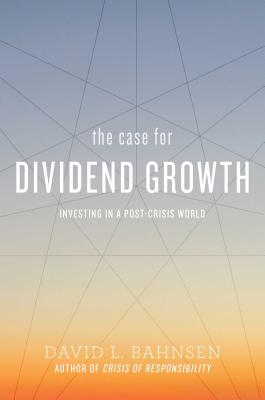 The Case for Dividend Growth (Hardcover)
Investing in a Post-Crisis World
Post Hill Press, 9781642930450, 192pp.
Publication Date: April 9, 2019
Other Editions of This Title:
Paperback (4/28/2020)
* Individual store prices may vary.
Description
Are you looking for an investment strategy that offers growth, income, and best of all, growth-of-income? The Case for Dividend Growth proposes the most effective method for exploring, realizing, and reaching your financial goals.

Both the tech bubble burst of 2000, and the financial crisis of 2008, poked significant holes in the primary investment belief of too many investors today—that one can just blindly withdraw from principal, and that equity returns will keep up. Too many investment advisors have taken the path of least resistance, not aware of the risk in systematically withdrawing from what, at times, will be a declining portfolio.

Investors seeking to accumulate money for their future needs, and investors needing to withdraw money now for a present need, both have one thing in common: Dividend Growth investing represents a powerful weapon in the achievement of their objectives.

Market volatility is not something any investor can escape, but benefitting from it (for accumulators reinvesting dividends), and being insulated from it (for withdrawers taking only from a growing flow of dividend income), are achievable results for those who understand the time-tested, sustainable, intelligent strategy of investing that is Dividend Growth.
About the Author
David L. Bahnsen is the founder and Chief Investment Officer of The Bahnsen Group, a wealth management firm managing over $1.5 billion of client assets, with offices in Newport Beach, CA and New York City. He is consistently ranked as one of top advisors in the nation by Barron's, Forbes, and The Financial Times.
Praise For The Case for Dividend Growth: Investing in a Post-Crisis World…
"In three-decade baby boom retirements, the only rational investment objective isn't income; it's growth of income. Your income has to keep rising on at least the same trajectory as your living costs, or you'll run out of money. No problem: the dividends of mainstream equities have, in the aggregate, been increasing at almost twice CPI inflation for as long as any of us have been alive. And wait, there's more: to the extent you can live on those rising dividends, your patrimony can continue to grow for your heirs. Yet it isn't too much to say that the immense power of dividend growth has always been the least understood, most underappreciated phenomenon in investing. Well, not anymore: investors of all ages will find David Bahnsen's pellucid and highly readable tutorial a life-forwarding experience."
— Nick Murray, author of Simple Wealth, Inevitable Wealth

"David's understanding of capital markets comes through in this book loud and clear. From alternatives to fixed income, to the asset class that is the subject of this book, dividend stocks, he writes in a way that allows investors of all shapes and sizes to understand. You'll be a better investor for reading."
— Anthony Scaramucci, Founder and CEO, Skybridge Capital

"In a financial world of pundits and experts energized by prediction compulsion, David Bahnsen stands out as an advisor who understands and embraces the eternal truth that long term accumulation and reinvestment of dividend income is the major key to sustainable investment success."
— Lowell Miller, Chief Investment Officer and co-Founder, Miller-Howard Investments

"Throughout his successful career, David has implemented a consistent dividend growth equity investment philosophy. In this book, David provides the reader valuable new insight toward that process in a coherent, unique, and thoughtful manner. Readers will become more complete investors after understanding David's dividend growth philosophy."
— Joseph M. Terranova, Senior Managing Director, Virtus Investment Partners; CNBC Ensemble Member since 2008