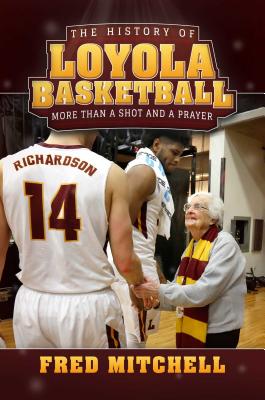 The History of Loyola Basketball (Hardcover)
More Than a Shot and a Prayer
Post Hill Press, 9781642930658, 192pp.
Publication Date: March 12, 2019
* Individual store prices may vary.
Description
Loyola Ramblers, the Final Four, and the Run of a Lifetime

Loyola has become a national brand, led by a pragmatic, genuine, and unassuming head coach. Porter Moser is known for doing things the right way and encouraging his players to "buy in to the culture of the program" that stresses building character and encourages good sportsmanship, teamwork, and respect for the process.

The over-arching national narrative of the 2017–18 NCAA men's basketball tournament became the valiant and totally unexpected run made by the Loyola Ramblers to the Final Four. What a refreshing Cinderella Run that fans nationwide appreciated after a college basketball season overloaded with negative headlines.

The fabric of the team was woven from the initial threads of the 1963 NCAA championship Loyola squad that not only captured a national title, but also made historic strides for college basketball and the nation with regard to civil rights and racial integration. While the nation was admiring the grit, maturity, and determination of Loyola's relatively unheralded players, they also fell in love with the sincerity of Sister Jean—the ninety-nine-year-old team chaplain and pop culture sensation now featured on bobbleheads and memes across the country. This unique and colorful story is properly told through the voices of those who actually took part in the joyful games, without shying away from the painful incidents that represent a significant part of our country's history.
About the Author
Fred Mitchell is an award-winning sportswriter, columnist and author who spent over 41 years with the Chicago Tribune.

Mitchell has written 12 books, including biographies with Bears Hall of Famers Gale Sayers and Richard Dent, and Cubs Hall of Famers Billy Williams and Ryne Sandberg. He also wrote "Playing Through" with Earl Woods, the late father of PGA champion Tiger Woods.

Mitchell, who has served as an adjunct professor of journalism at Northwestern University, DePaul University and Columbia College, is the only sportswriter in Chicago Tribune history to have been the main beat reporter covering the Bulls, Bears and Cubs during his career. He previously served as a high school English teacher and coach in Ohio for five years and now serves as the community correspondent for the Chicago Blackhawks.

He also covered Loyola men's basketball in recent years for the Tribune.
Praise For The History of Loyola Basketball: More Than a Shot and a Prayer…
"Only a seasoned journalist like Fred Mitchell could uncover the fascinating stories behind the Ramblers' glorious journey to the NCAA championship. Mitchell details surprising, 'behind-the-curtain' events, which carry the reader on a breath-taking trip to an unexpected, hard-fought victory."
— Robert Jordan, Jr., Ph.D., Loyola University, Retired Anchor/Reporter, WGN TV - Chicago