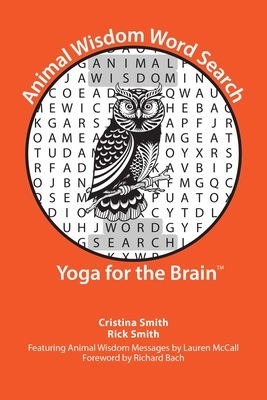 Animal Wisdom Word Search
Yoga for the Brain
Paperback

* Individual store prices may vary.
Description
Boost your health and happiness through the power of positive play.

Discover goodies galore to enjoy, including amazing animal communications from thirty-three different species, secret messages, brain training fun, and uplifting stories to help make your life better. Chicken soup for your brain and soul, Animal Wisdom Word Search invites you to play!

Who would have thought that practicing mental yoga, turbocharging creativity, and empowering personal mastery could be so much fun? Featuring Lauren McCall's Animal Wisdom messages, these sixty easy to advanced puzzles are both an entertaining challenge to be solved and a meditation for self-realization.

Once all words are found, a hidden message is revealed—a powerful wisdom quote to affirm each animal's story. Plus, you'll uncover fascinating facts and enlightening insights, savoring tasty food for thought on every page.

This book can help you:

* Stay sharp with a more flexible brain

* Bring more peace and happiness into your life by connecting with our animal companions

* Reduce the risk of early onset dementia and Alzheimer's disease

* Have fun with a purpose

Both a profound philosophy and fun puzzle book, Animal Wisdom Word Search is yoga for the brain that stretches your mind, nourishes your soul, and touches your heart.

Complete all sixty puzzles, and in the process, discover that you have also solved the most important puzzle of all…you!
Praise For Animal Wisdom Word Search: Yoga for the Brain…
"While I've never actually heard the term 'yoga for the brain' before, it makes total sense. It's a well-known fact you have to exercise your brain just as you exercise your body. The Yoga for the Brain series easily fulfills the mental and spiritual aspects of a Yoga practice. So much more than a puzzle book, the fun facts, history, and education lining the pages make them unique treasures and I highly recommend it for an entertaining and enlightening experience!"
— Sheri Hoyte, Reader Views

"Puzzles are half of what Yoga for the Brain books are about. The other half is the commentary that helps us to learn to live fully in this present moment.

This book is deeply spiritual from beginning to end. Cristina Smith has experienced the power of the spirit to transform her life and allow her to tap into her energy and enthusiasm to help others become all they can be. That is her joyful mission and her books help people to experience love, joy, creativity, and mindfulness. Not bad, for a book which is half filled with puzzles, don't you think? Highest recommendation."
— Dr. Russell Fanelli, Professor Emeritus, Western New England University

"I love Yoga for the Brain! It is a great way to relax, unwind and play. Even better, research shows that games like these can have a mind-body benefit no matter how old you are. Sign me up for more!"
— Camille Leon, Founder, Holistic Chamber of Commerce

"Cristina Smith's fun and easily accessible works brilliantly blend quantum consciousness-based science with profound philosophical wisdom."
— Dr. Amit Goswami, Quantum Physicist and best-selling author of "The Self-Aware Universe"

"Never before have I seen such a book, with word search puzzles, secret messages, and even more for the reader to enjoy! More than just a word search puzzle book, it's also packed with facts and information. Sitting down with the book is a great way to relax and stretch those brain muscles. I can see why the puzzles are considered 'yoga for the brain!' This book is highly recommended for those looking for puzzles, relaxation, inspiration, and enjoyment!"
— Carla Trueheart for Readers' Favorite

"Yoga for the Brain is inspirational, relevant, and fun! The puzzles are challenging in a good way, and the messages are insightful and meaningful. It's well worth your time. I highly recommend it to everyone looking for something uniquely uplifting. It provides an all-around positive experience anyone can benefit from. The books encompass food for thought and food for the soul!"
— Brenda Kruegar Huffman, Publisher, Women's Voices Magazine
Post Hill Press, 9781642931303, 176pp.
Publication Date: February 19, 2019
About the Author
Award-winning author Cristina Smith served as executive chef for Blue Sky Ranch community and retreat center for fifteen years. Her culinary creativity, blended with a fun writing style, is the perfect recipe for delightfully delicious reading.