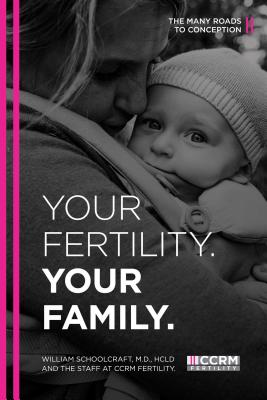 Your Fertility. Your Family.
The Many Roads to Conception
Paperback

* Individual store prices may vary.
Other Editions of This Title:
MP3 CD (5/14/2019)
Compact Disc (5/14/2019)
Description
A collection of stories from patients who achieved pregnancy and became parents thanks to CCRM Fertility—the latest scientific advancements in fertility and molecular genetics.

The world of fertility treatments has changed substantially in less than a decade. Much like computer technology, software, cell phones, and even the music industry, the field of fertility science is transforming at a stunning rate. What was considered standard care and treatment only six or seven years ago is now thought of as "old school" and passé.

In Your Fertility. Your Family., a world-renowned fertility provider offers the latest treatment template used to diagnose and overcome fertility challenges. Dr. William Schoolcraft and his team of clinicians address the latest causes and treatment plans for age-related infertility, recurrent miscarriage, and failed IVF cycles. The growing CCRM team tackles new treatments and options that have emerged and are expected to develop over the next decade.

Ideal for both mainstream audiences interested in family planning and fertility, as well as medical professionals in the field, Your Fertility. Your Family. promises to be a fascinating and illuminating read.
Praise For Your Fertility. Your Family.: The Many Roads to Conception…
"If you're down a blog rabbit hole of reasons why you aren't pregnant and feeling frustrated, please take a deep breath. Then make an appointment with CCRM in your nearest city. With some of the highest success rates in the country and exceptional care teams, you will feel control over your path to parenthood. Trust me, wanting the best for your baby starts before they are born, CCRM is the best!"
— Giuliana Rancic, Mother, E! Host, Entrepreneur, Designer, Author
Savio Republic, 9781642931617, 224pp.
Publication Date: January 29, 2019
About the Author
William Schoolcraft, M.D. is the founder and Medical Director of the Colorado Center for Reproductive Medicine. He completed his medical training at the University of Kansas and finished his residency in obstetrics and gynecology in 1983 at UCLA. In 1983 he began a private practice in the field of obstetrics, gynecology, and infertility in Denver.

The Colorado Center for Reproductive Medicine (CCRM) was established in 1987 when Dr. Schoolcraft returned from specialized training in infertility at UCLA under the direction of David Meldrum, M.D., one of the pioneers in the field of in vitro fertilization.

Within its first five years of operation, CCRM and Dr. Schoolcraft had begun to develop a national reputation for excellence in both pregnancy and delivery rates.

Dr. Schoolcraft has authored many scientific articles which have documented the Center's high success rates in intracytoplasmic sperm injection (ICSI), assisted hatching of embryos, novel methods to stimulate multiple follicular growth, and blastocyst transfers.