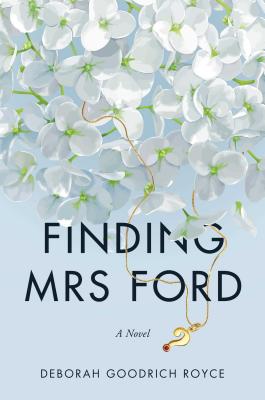 Finding Mrs. Ford
A Novel
Hardcover

* Individual store prices may vary.
Other Editions of This Title:
Digital Audiobook (6/24/2019)
Paperback (4/7/2020)
Description
Named one of the five must-read summer mysteries for 2019 by forbes.com

Named one of the top ten summer reads of 2019 by Good Morning America

Named one of the top fifty summer books of 2019 by Book Riot

On a sunny summer morning by the sea in New England, Susan Ford's cocoon of privilege is threatened when an Iraqi man from her distant past boards a plane in Baghdad to come find her.

Mrs. Ford leads a privileged life. From her Blenheim spaniels to her cottage on the coast of Watch Hill, Rhode Island, she carefully curates her world. Hair in place, house in place, life in place, Susan Ford keeps it under control.

Early one morning in the summer of 2014, the past pays a call to collect. The FBI arrives to question her about a man from Iraq—a Chaldean Christian from Mosul—where ISIS has just seized control. Sammy Fakhouri, they say, is his name and they have taken him into custody, picked up on his way to her house.

Back in the summer of 1979, on the outskirts of a declining Detroit, college coed Susan meets charismatic and reckless Annie. They are an unlikely pair of friends but they each see something in the other—something they'd like to possess. Studious Susan is a moth to the flame that is Annie. Yet, it is dazzling Annie who senses that Susan will be the one who makes it out of Detroit.

Together, the girls navigate the minefields of a down-market disco where they work their summer jobs. It's a world filled with pretty girls and powerful men, some of whom—like Sammy Fakhouri—happen to be Iraqi Chaldeans.

What happened in that summer of 1979 when Susan and Annie met? Why is Sammy looking for Susan all these years later? And why is Mrs. Ford lying?
Praise For Finding Mrs. Ford: A Novel…
"Something about the flashbacks—from staid, starchy Watch Hill, RI, in 2014, to big, bad Detroit in 1979—made it feel sexy and a little dangerous...the story is a fun one, with a nifty twist midway."
— The New York Times

"Royce, an actress and a story editor for Miramax, imbues her debut novel with plenty of drama, suspense, and sharp observations. [...] A compelling, well-written thriller with an effective, twisty plot."
— Kirkus Reviews

"Juicy and suspenseful"
— People Magazine

"Royce draws you into her plot via her dazzling treatment of this setting, and other equally well-drawn locales, including disco-era suburban Detroit, which figures heavily in the plot as well. This novel, which is Royce's first, features equally three-dimensional characters and plot twists that are engaging and original as well. Once you've enjoyed Finding Mrs. Ford, you'll find yourself expecting more great things from this author, as am I."
— Forbes.com

"In this absorbing debut, Deborah Goodrich Royce takes readers on a twisty, mesmerizing journey between the rarefied world of Watch Hill, Rhode Island and the warring of gangsters of 1970s suburban Detroit, as a grieving widow is forced to confront the consequences of a fateful summer thirty-five years earlier. Brimming with vivid characters and emotional insight, Finding Mrs. Ford tackles big themes of identity, friendship, and loss, spinning out the suspense to the last page. A total triumph."
— Beatriz Williams, New York Times bestselling author of "The Summer Wives"

"Deborah Goodrich Royce's gripping and relatable literary suspense novel Finding Mrs. Ford unravels the decades-old secret behind an otherwise perfect life... The novel's payoff is a thrilling twist that comes late in the book. As Susan accepts that the truth will cost her everything's she's known, her memories of 1979 become more vibrant, violent, and graphic. The real thrill of Finding Mrs. Ford comes from reconciling the person Susan says she is with the girl she used to be."
— Foreword Reviews

"An impressively original, immediately engaging and thoroughly entertaining novel by an author with a distinctive narrative storytelling style."
— Midwest Book Review

"Royce has done a sterling job of incorporating all the things our mothers warned us about...Which is where the title of the book comes in. Don't think you know who's at the door, what's in the envelope, or who's been sleeping with whom until all the players have been accounted for."
— BookTrib.com

"In her literary debut, Deborah Goodrich Royce has given us the sort of thriller that wants to be devoured in one sitting. Written from start to finish with crisp and poignant prose, compelling characters and setting, Finding Mrs. Ford entertains as much with imagery as with its masterful plot twists. I couldn't put it down."
— Jeanne McWilliams Blasberg, Author of "Eden" and "The Nine"

"The plot propels forward in unexpected ways—connecting the past and present with an ending that I didn't see coming. If you are seeking a beach read that is impossible to put down, look no further than Finding Mrs. Ford. I was hooked from the very first page."
— Sarah Vickers, Classy Girls Wear Pearls, Co-found Kiel James Patrick

"Deborah Royce's first novel, Finding Mrs. Ford is a treat—an exquisitely written literary thriller that compels the reader forward right to the last page and makes one hope she is writing a second and third novel."
— Patricia Chadwick, Author of "Little Sister: A Memoir"

"I tore right through the early galley of Finding Mrs. Ford by Deborah Goodrich Royce this past weekend. This is a thriller set in wealthy Watch Hill, RI and blighted suburbs of Detroit, MI, alternating between the late 1970s and present day, with an incredible twist in the middle that will take your breath away. Written with such self-control and calculating precision, Royce has done an excellent job of keeping us glued to the pages as the characters expose themselves in their intricate lives, and lies. A superb debut!"
— Annie Philbrick
Post Hill Press, 9781642931723, 320pp.
Publication Date: June 25, 2019
About the Author
Deborah Goodrich Royce's thrillers examine puzzles of identity. Ruby Falls won the Zibby Award for Best Plot Twist in 2021 and Finding Mrs. Ford was hailed by Forbes, Book Riot, and Good Morning America's "best of" lists in 2019.

She began as an actress on All My Children and in multiple films, before transitioning to the role of story editor at Miramax Films, developing Emma and early versions of Chicago and A Wrinkle in Time.

With her husband, Chuck, Deborah restored the Avon Theatre, Ocean House Hotel, Deer Mountain Inn, United Theatre, Savoy Bookstore, and numerous Main Street revitalization projects in Rhode Island and the Catskills.

She serves on the governing and advisory boards of the American Film Institute, Greenwich International Film Festival, New York Botanical Garden, Greenwich Historical Society, and the PRASAD Project.

Deborah holds a bachelor's degree in modern foreign languages and an honorary doctorate of humane letters from Lake Erie College.