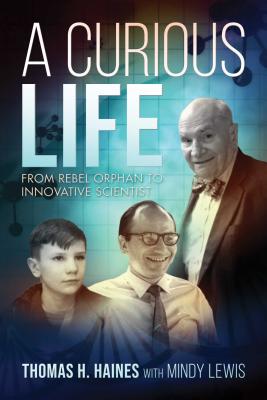 A Curious Life (Paperback)
From Rebel Orphan to Innovative Scientist
Post Hill Press, 9781642931938, 400pp.
Publication Date: August 6, 2019
* Individual store prices may vary.
Description
The funny, moving, and surprising story of how Thomas Haines—who grew up in the famed Graham School orphanage—became a prominent scientist, social activist, New York City landlord, educator, and founder of the City University of New York Medical School.

A Curious Life chronicles the remarkable life of preeminent biochemist Thomas Haines. Born in 1933, Haines was barely four when he was sent by court order to The Graham School, an orphanage in Hastings-on-Hudson NY founded in 1806 by Isabella Graham and Elizabeth Schuyler Hamilton. His trajectory is a series of radical reversals: from penniless orphan to innovative scientist and educator; from right-wing McCarthyite to left-wing activist; founder of the Sophie Davis School of Biomedical Education of The City University of New York, a medical school designed to bring in low-income and minority students; New York City landlord; husband of a successful artist whom he nursed through a long illness; father of a brilliant and prominent daughter. Now eighty-six, Haines is Professor Emeritus at the Rockefeller Institute and the only alumnus of the Graham School to serve on its board. A diminutive dynamo in a bow tie, Dr. Haines recently participated on a panel at the Smithsonian Museum of American History, and jogs every morning at four a.m. in Central Park. Above all a formidable storyteller, Haines provides an intimate look at his relationships and conveys the excitement of a life in science.

"Who could have possibly imagined that the four-year-old boy looking out at the sunset across the Hudson River from the grounds of the Graham School would have been able to live such an incredible and productive life? From abandoned toddler, to homeless vagabond, to research chemist, to husband and father, to university professor, to innovative educator, to New York building landlord, Tom has always placed a premium on personal connections and interactions. He has benefitted from the kindness of strangers and mentorship, and in turn he has mentored and helped countless others along the way on his amazing life's journey. What a lucky life he has lived."

—Thomas P. Sakmar, "Foreword"

"Tom combines a charming, generous and curious demeanor with a fierce inner determination to understand the world and how it works. Perhaps because of his unconventional childhood, Tom has spent his life challenging conventional wisdom. As you will experience in Mindy Lewis's fabulous telling of Tom's life, the world is a more enchanting place with Dr. Haines in it."

—Jess Dannhauser, "Introduction"
About the Author
Thomas Henry Haines
is a Visiting Professor of Biochemistry and Molecular Biology at Rockefeller University. Since 2007, Dr. Haines has been a Professor Emeritus of Chemistry and Biochemistry of City College of New York. In the early 1970s, he worked under City College President Robert E. Marshak to establish The Sophie Davis School of Biomedical Education, where he taught biochemistry for thirty-five years. Dr. Haines specializes in the study of lipids and biological membranes. He received his B.S. in Chemistry from City College in 1957, his M.S. in Education from City College in 1959, and his Ph.D. from Rutgers, the State University of New Jersey in 1964. Dr. Haines and his wife Polly Cleveland live on Manhattan's West Side close to Central Park, where he enjoys running each morning. He also serves on the board of Graham Windham Services to Families. More about Dr. Haines can be found online:
http://thomashaines.org
Mindy Lewis
is the author of
Life Inside: A Memoir
(Washington Square Press), the editor of
DIRT: The Quirks, Habits and Passions of Keeping House
(a Seal Press anthology), and winner of
New Letters
2015 Best Essay Award. Her essays, articles, and book reviews have been published in
Newsweek
,
New York Times Book Review
,
Lilith
,
Body & Soul
,
Poets & Writers
,
Arts & Letters Journal
,
New Letters, Psychoanalytic Perspectives,
in anthologies and online
.
She teaches at The Writer's Voice in New York City. Visit her website:
www.mindylewis.com
Praise For A Curious Life: From Rebel Orphan to Innovative Scientist…
"A remarkable story of one man's epic rise from humble roots to the highest echelons of science and academia. Not just a beautifully told tale of perseverance, courage, and altruism, but a love letter to the city that gave the author his shot and the fascinating artists, activists, and scientists in his circle."
— Ed Boland, Author of the New York Times Bestseller The Battle for Room 314

"This book gives you Tom Haines's authentic voice: open-minded, candid, inquisitive, and always ready to believe the best of others. He leads us from the inauspicious launchpad of an orphanage, through youthful struggles always confronted with grace and determination, to a career as one of those teachers every student dreams of, and a retirement dedicated to advancing essential social causes. A fascinating account of an exemplary life."
— Christopher Hampton, Playwright

"The CUNY School of Medicine owes its existence to Tom Haines. Forty-five years later, the school still embodies his innovative—and back then controversial—vision of medical education that recruits, educates, and nurtures clinicians drawn from underrepresented minorities, and sees them graduate and return to their communities to practice in underserved neighborhoods. A Curious Life tells the remarkable story of the school's founding."
— Maurizio Trevisan, Dean of the Sophie Davis School of Biomedical Education (2011 to 2016) and Founding Dean of the CUNY School of Medicine (2016 to 2019)

"Tom, the orphan, has a relentless ability to build community wherever he goes. Everyone in science, politics, and the arts who meets Tom is a potential friend not only to him but to each other. This book will introduce you to some of them and to the boundless enthusiasm and optimism of a remarkable man."
— Marilyn Gunner, Professor of Physics at the City College of New York and Fellow of the American Physical Society

"Thomas Haines's story raises fascinating questions about the nature of families and their influence on adult life. After growing up at the Graham School, an orphanage almost as old as the Republic, Haines went on to become a distinguished scientist, educator, and family man who, for years, cared for his fatally-ill wife while raising their daughter. Within this exciting story are questions for experts on—or anyone interested in—'normal' child development."
— Christian Beels, M.D., Former Director, Public Psychiatry Fellowship, N.Y.S. Psychiatric Institute

"Dr. Tom Haines is a thriving example of Eliza Hamilton's legacy. From a student of at Graham Windham's school, to a founder of the CUNY School of Medicine, Dr. Haines inspires us all to lead A Curious Life."
— Morgan Marcell, Original Hamilton Cast Member