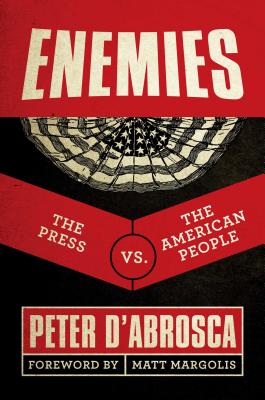 Enemies
The Press vs. The American People
Hardcover

* Individual store prices may vary.
Description
In this riotous step-by-step dismantlement of the propaganda arm of the Democratic Party, also known as the mainstream media, D'Abrosca exposes the tactics by which the profiteering press deceives ordinary Americans, while delivering an epic tongue-lashing to news' most disreputable characters.

President Donald J. Trump drives liberals and the mainstream press berserk by labeling them the enemy of the American people. While the testy talking heads and petulant penmen in D.C. might disagree, all relevant evidence supports Trump's claim. Hilariously told, Enemies: The Press vs. The American People is a knee-slapping account of the follies of the corporate press freak show. It highlights the media's fact-free and for-profit deception of unsuspecting Americans while delivering the press the proverbial beat down it so richly deserves.
Praise For Enemies: The Press vs. The American People…
"Just how dumb, blind, and incompetent are the enemies of the Fourth Estate? Peter D'Abrosca tears 'em all to shreds in this masterful dissection of American journalism's ills. From climate-grifters to Antifa apologists to race hustlers and cocktail conservatives attacking President Trump on TV airwaves and in dying newspapers at every turn, D'Abrosca documents the relentless malpractice of the media elites. This book is an invaluable guide to fake news and fraudulent narratives. Buy it!"
— Michelle Malkin, Syndicated Columnist, Author, and Blogger
Bombardier Books, 9781642931990, 256pp.
Publication Date: July 16, 2019
About the Author
Peter D'Abrosca is an investigative reporter and conservative commentator. Originally from the great state of Rhode Island, he is a proud law school dropout whose work has been featured in NewsBusters, The Geller Report, and on DRUDGE. He does most of his daily reporting for Big League Politics.