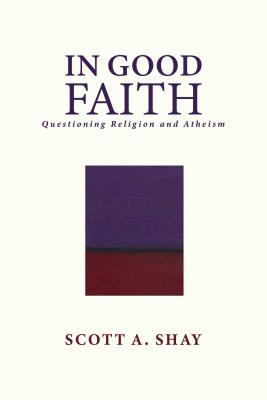 In Good Faith (Paperback)
Questioning Religion and Atheism
Post Hill Press, 9781642933475, 560pp.
Publication Date: April 7, 2020
Other Editions of This Title:
Hardcover (9/4/2018)
* Individual store prices may vary.
Description
Religion can be both inspiring and distressing. And many critiques of it are simultaneously compelling and dubious. Shay examines atheist arguments with a refreshing modern eye in this comprehensive look at our most fundamental questions about faith and reason.

Prominent atheists claim the Bible is a racist text. Yet Dr. Martin Luther King Jr. read it daily. Then again, so did many ardent segregationists. Some atheists claim religion serves to oppress the masses. Yet the classic text of the French Revolution, What is the Third Estate?, was written by a priest. On the other hand, the revolutionaries ended up banning religion. What do we make of religion's confusing role in history?

And what of religion's relationship to science? Some scientists claim that we have no free will. Others argue that advances in neurobiology and physics disprove determinism. As for whispering to the universe, an absurd habit say the skeptics. Yet prayer is a transformative practice for millions.

This book explores the most common atheist critiques of the Bible and religion, incorporating Jewish, Christian, and Muslim voices. The result is a fresh, modern re-evaluation of religion and of atheism.
About the Author
Scott A. Shay has had a successful business career spanning Wall Street, private equity, venture capital, and banking. He co-founded Signature Bank of New York and has served as its Chairman since its formation. He has been a provocative commentator on many financial issues, including among others, how the banking system should best function to help society, the implications of a cashless world, and tax reform. Scott called for the re-imposition of Glass-Steagall and breaking up the big banks at a TEDx talk at the NY Stock Exchange in 2012. Throughout his life, he has been a student of religion and how religion ought to apply to the world outside of the synagogue, church, or mosque. In addition to authoring articles relating to the Jewish community, Scott authored the best-selling Getting Our Groove Back: How to Energize American Jewry (Second Edition, Devora 2008).