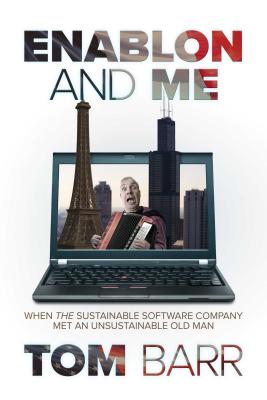 Enablon and Me
When the Sustainable Software Company Met an Unsustainable Old Man
Paperback

* Individual store prices may vary.
Description
Business tips for working warriors.

Has work got you down? Wondering whether you'll ever attain the success you dreamed of? Curious about your own perception of success?

Treat yourself to Enablon and Me, just the sidesplitting pick-me-up you need to change your perspective on work and maybe even on life. There is solid business advice in this madcap romp that follows the exploits of this old software guy who transitions from Motorola—a huge US-based company—to a tiny French operation called Enablon. Never taking himself too seriously, Tom Barr offers strategic gems on surviving a layoff, interviewing, acclimating to totally new work environments, working with and managing people, and always focusing on customer satisfaction. Each insight is delivered through hilarious real-life episodes that will have you simultaneously belly-laughing, nodding, and taking notes. An utter tour de force on how to enjoy fun-filled business success!
Praise For Enablon and Me: When the Sustainable Software Company Met an Unsustainable Old Man…
"Enablon and Me is a terrific story full of wisdom and great advice. Tom Barr describes a job change after being downsized and does so with an abundance of humor and wit. But this book is about much more than work—it is about embracing change, engaging with others, and trying to get the most out of each moment. Tom claims to be an old man, but his youth and enthusiasm come through loud and clear in this delightful book."
— James Lee, President, Onsight

"If you like to read insightful business books that will have you alternating between mild chuckles and full out belly laughs, read this book. If your profession has you involved in international business, technical training, corporate training, consulting, or product advocacy, read this book a second time. You will have undoubtedly missed a subtle point or two as you were nodding, smiling, and laughing along with what you read the first time. And if you aspire to any of the aforementioned careers, read this book a third time to truly absorb its invaluable lessons."
— Martin Marks, Software Training Development and Delivery Specialist

"A real-world story with no-frill tips from a successful business person. Told with humor and heart. What a terrific read."
— Corinne Miller, founder of Innovating Results

"Tom Barr's stories about success and prosperity are told with humor and insight. His lessons apply in any organization where change is the norm and constant learning from experience is essential."
— Catherine Marienau, Ph.D., Professor, Director of MA in Educating Adults Program, Director of Center to Advance Education for Adults, School for New Learning/DePaul University, and Co-author of "Facilitating Learning with the Adult Brain in Mind" (2016)

"Tom provides precious business and working tips based on his wide experience, on how to face and manage working life changes, multicultural environments, and different styles of management, while keeping his remarkable kindness and devotion. This book is wise, honest, funny, and tender at the same time—very much like its author. Easy to read even for a French person like myself! I had the honor of being Tom's manager, but he actually turned out to be a true inspiration for me and the rest of my life and career."
— Angela Dal Molin, Entrepreneur

"In his entertaining book, Enablon and Me, Tom Barr takes you on a wild and wonderful adventure. You will be engaged from start to finish as you learn along the way with the author how to negotiate new cultures, technologies, and responsibilities beyond what you (or he) thought were humanly possible. This is a great book for anyone who wants to keep the spirit of adventure and learning alive in their life and work."
— Pamela Meyer, Ph.D., Author of "The Agility Shift: Creating Agile Leaders, Teams, and Organizations"

"How do you build a great organization that helps many of the world's largest and best-known companies reduce their impact on the environment, protect their employees, and contribute to a safer more livable planet? You start by hiring people who are passionate, smart, driven, ambitious, and most importantly, who are kind and compassionate. Tom is one of these people I have been lucky to recruit in my career. His life's lessons and his unique sense of humor will enlighten you."
— Phil Tesler, Entrepreneur and Investor focusing on companies making a positive impact on the world, and Co-founder of Enablon, the world's leading provider of Sustainability, EH&S and Operational Risk Management Technology
Post Hill Press, 9781642933642, 240pp.
Publication Date: February 18, 2020
About the Author
A middle-school teacher when computers became commonplace, Tom entered the business of software first through Motorola and later with Enablon. Along the way, he earned numerous awards and four degrees (including a Ph.D.), published over twenty papers, and acquired a profound sense of humor.