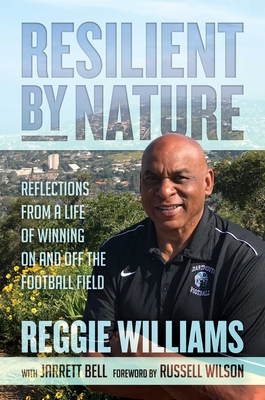 Resilient by Nature (Hardcover)
Reflections from a Life of Winning On and Off the Football Field
Post Hill Press, 9781642933888, 240pp.
Publication Date: September 8, 2020
* Individual store prices may vary.
Description
This amazing memoir follows the story of Reggie Williams—ex-NFL linebacker, former Disney executive, renaissance man, and the epitome of determination in the face of extreme challenges.

"Don't look at their eyes."

That was the advice the great Jim Brown gave to Reggie Williams as they prepared for a meeting with members of rival Los Angeles gang members at an ultra-secret location.

Williams needed to strike an accord with the "Bloods" and the "Crips" if the youth education center he was establishing in South Central LA would ever stand a chance of succeeding in the aftermath of the Rodney King riots…with the NFL on the verge of making it to the Super Bowl.

Thanks to an assist from Brown, arguably the greatest player in NFL history and undoubtedly as respected of a figure as anyone with LA gangbangers, Williams survived the meeting that led to an agreement from the gangs that the community center would be off-limits.

What a compelling juxtaposition. Williams stared down lethal quarterbacks as a high-impact NFL linebacker. He held his ground on sticky political issues as a city councilman. He became a difference-maker in the corporate world for one of the most iconic brands in America, fueling a new approach to diversity.

Yet, being blindfolded and led to the basement of an LA hideaway? That was new territory.

In Resilient by Nature, Williams reveals an array of classic episodes from his journey that share a common thread—the ability to adapt to change and extreme challenges…including the battle to save his right leg.

Look in his eyes and you'll see Williams as a walking inspiration.
About the Author
Reggie Williams is a former NFL linebacker and College Football Hall of Famer who was instrumental in building a sports-themed empire during his tenure as a Disney executive. During his fourteen years with the Cincinnati Bengals, Williams was honored as the Walter Payton NFL Man of the Year for his community service, and later served on the Cincinnati city council—while active as a pro athlete. He also had stints as GM for the New York/New Jersey Knights of the World League of American Football and as an NFL executive who established the first NFL Youth Education Town. A native of Flint, Michigan, he attended Southwestern High before Dartmouth.

NFL columnist Jarrett Bell has covered pro football for USA Today sports since 1993. He also provides commentary for WBAL Radio in Baltimore, and since 2001, has been part of that station's Ravens pre-game show. Previously, he also served as a contributor at ESPN for four years (2013–2017), primarily featured as a panelist on NFL Insiders and SportsCenter.

In addition to winning dozens of in-house awards for USA Today, he has received multiple writing awards from the Pro Football Writers of America. He has been a member of the Pro Football Hall of Fame selection committee since 1997, and since that year, has also served on the media panel that selects the Super Bowl MVP. He also serves on the Alumni Advisory Board for the College of Communication Arts and Sciences at Michigan State University.

Among hundreds of radio and TV interviews, he has appeared on programming for CBS (Face The Nation), CNBC, ESPN, CNN, NFL Films, The NFL Network, Fox Sports, MSNBC, Headline News, Comcast, ESPN Radio, NBC Sports Radio, ABC Radio, Rogers Sportsnet, Sirius Satellite Radio, Pro Football Talk, and WUSA-TV. He was featured in documentaries, The Forgotten Four and Minister of Defense: The Reggie White Story. He also had a cameo role in the feature film, Invincible.

Bell, fifty-nine, previously covered the San Francisco 49ers for the Gannett-owned Marin (County) Independent Journal (1990–1992) and was editor of The Dallas Cowboys Weekly (1989). He began a nine-year association with the Cowboys in 1981, a few weeks after graduating from Michigan State University with a bachelor's degree in Human Communication. After four years as a contributing writer for the team-owned Cowboys Weekly, he joined the staff full-time in 1985. He also served as sports director for Fort Worth-based KNOK-FM (1984–1985) and covered high school sports as a staff writer for The Dallas Times Herald (1981–1983).

In college, he worked as a student assistant in the Michigan State University Sports Information Office, a news reporter for WVIC-AM and as a teaching assistant for the Department of Communication. He also studied abroad at The University of London during the summer of 1979, participating in The Guardian's Contemporary Mass Media program.

A Detroit native, he began in sports as a teenager at Olympia Stadium, working as an equipment manager for the Detroit Jr. Wings and as an aide in the PR Department for the NHL's Detroit Red Wings.

A father of two, he resides in Northern Virginia.