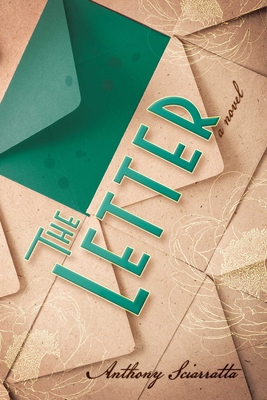 The Letter
Paperback

* Individual store prices may vary.
Description
When famous writer Victor Esposito falls into a coma, the memories of a ten-year-old love affair come roaring back to Eva Abram's mind, uprooting her quiet Long Island life.

Victor Esposito mysteriously dedicates every novel he's ever written to one woman. His trademark protagonist fits the description of Eva Abrams, the bright-eyed and blonde Long Island housewife.

Tragedy suddenly strikes Victor's life when a courageous act leaves him in a coma. Hearing the news from a television broadcast, Eva finds herself suddenly overcome with the memories of a love affair she'd left behind a decade ago.

In a captivating story of forbidden love, The Letter reminds us how two soulmates can always find their way back to each other.
Praise For The Letter…
"I had the pleasure of meeting Anthony at the American Library Association convention and was immediately taken with his infectious charm and warmth. He writes much the same way he talks and I had great fun reading The Letter. A cross between A Christmas Carol and It's a Wonderful Life, Sciarratta introduces us to Victor Esposito, a wildly successful writer, moments before he is shot interrupting a bodega burglary, thereby saving the lives of a woman and child. As Esposito hovers on the brink of death, he is taken on a journey where he meets angels, devils, long-lasting relatives, and Eva—his muse and the love of his life. The Letter is an enjoyable look at what might have been and the power of second chances."
— Deborah Goodrich Royce, Author of "Finding Mrs. Ford"

"The Letter by Anthony Sciarratta is a story about how cherished moments can leave an indelible mark on one's soul. Sciarratta's book is an evocative read, reminding us that the greatest experience in life is love—and that we're all deserving of it."
— Deborah Serani, author

"Fans of Nicholas Sparks and other writers who capture lasting love and its progression through time and catastrophe will relish The Letter's moving story of the forces that analyze moral behaviors, lead to individual growth and self-love, and ultimately return to the roots of romance. It's a heady story that is compelling, moving, and hard to put down."
— D. Donovan, Senior Reviewer, Midwest Book Review

"Ultimately, The Letter addresses the issue of soulmates. This is seeded at the outset and blooms in its epilogue. It is about the alchemy of love and its power to heal wounds, whether psychological or physical. It is a bold statement in a book that tells its story with straightforward passion and wide-eyed honesty."
— Jeffrey Sanzel, TBR News Media

"Nearly a Faustian tale that visits unearthly coma-induced realms and entities, in the lineage of It's a Wonderful Life's self-reflection and second chances, bottom line here is that The Letter is a good old-fashioned romance story reinvented for today... and that we should keep an eye out for Sciarratta's next novel."
— Don Oldenburg, Editor of The Ambassador and former Washington Post Columnist
Post Hill Press, 9781642934229, 240pp.
Publication Date: April 28, 2020
About the Author
Anthony Sciarratta was born in Maspeth, New York, to Italian-American parents. Being very nostalgic, Anthony takes great pride in labeling himself an old soul. His love for classic films, music, and literature shows through his work. Anthony started his career as a young writer through Amazon self-publishing, which lead to the republication of his first novel, Finding Forever. His success story as such a young writer is inspirational to all aspiring writers and self-published authors.