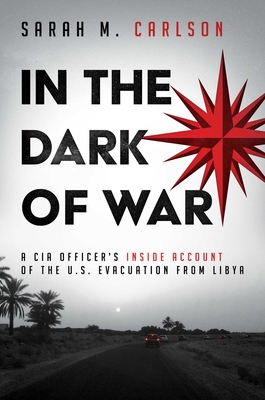 In the Dark of War
A CIA Officer's Inside Account of the U.S. Evacuation from Libya
Hardcover

* Individual store prices may vary.
Description
A CIA officer's inside account of how Libya's descent into rampant violence precipitated the harrowing overland evacuation of the entire U.S. Mission from Tripoli after being trapped in the city for weeks.

Most of the world is aware of the tragic events surrounding the 2012 attacks in Benghazi, Libya, that killed four Americans. Most are also aware of the resulting political controversy in Washington. But few know what happened next in Libya. While said controversy in Washington subsided, the volatility in Libya escalated—threatening the brave men and women who remained behind to continue the U.S. mission.

In this dramatic retelling of dangerous attacks threatening the U.S. mission Tripoli, Libya—less than two years after Benghazi—American valor and courage prevailed. The U.S. personnel and intrepid operators stood fast as militias clashed, suicide bomb attacked, and numerous threats and kidnappings closed in on their location. In the midst of it all, the intelligence and determination of one woman with unwavering faith played a pivotal role in saving them all…
Praise For In the Dark of War: A CIA Officer's Inside Account of the U.S. Evacuation from Libya…
"From the eyes of a former CIA officer stationed in Libya after the horrific 2012 events in Benghazi, in Sarah M. Carlson's In the Dark of War, you will see the nasty and dangerous world of terror, along with the never-ending challenges of protecting American diplomats overseas."
— Fred Burton, VP, Stratfor; former State Department special agent; and New York Times bestselling author

"In the Dark of War is CIA officer Sarah M. Carlson's first-person, boots-on-the-ground story of the chaos in Tripoli after the fall of Libya. To experience the complex inner workings of an Embassy in crisis, its heroic and dedicated state department officers, is riveting. Under the constant threat of attack, the book is the story of American patriots at their best. It is a story of dedication, sacrifice, and what life is like on the front lines of a nation falling into the abyss of a failed state."
— Ken Nolan, screenwriter of Black Hawk Down

"Sarah Carlson has a compelling story to tell. In the Dark of War offers unusual insight into the dramatic evacuation of the U.S. Embassy in Libya in 2014. And, in doing so, she also provides a deeply personal account of her traumatic experience as an intelligence analyst supporting that breakneck withdrawal. Read this book."
— David Priess, former CIA officer and author, The President's Book of Secrets

"Simply riveting. Sarah Carlson is nothing short of a hero. This beautifully written book reads like an engrossing novel, yet is stunningly true. Little is known of the struggles that those left in Libya faced after the attacks in Benghazi, and Ms. Carlson's bravery played an instrumental role in saving lives. In the Dark of War inspired me and will inspire many more. A must read."
— Tracy Walder, author of The Unexpected Spy, St. Martin's Press
Fidelis Books, 9781642934717, 256pp.
Publication Date: June 23, 2020
About the Author
Sarah M. Carlson served as a Targeting Analyst at the Central Intelligence Agency's Counterterrorism Center. She specialized in threats and attack plans directed against the U.S. and Europe and completed multiple rotations with the Directorate of Operations. Prior to that, she served as a Counterterrorism Analyst at the Defense Intelligence Agency in the Homeland Defense Division and Iraq Branch in the Middle East. She also completed rotations to the National Counterterrorism Center and U.S. Northern Command while with the DIA. Her counterterrorism career focused on groups operating in the Middle East, North Africa, and South Asia. She learned Arabic and traveled extensively through North Africa and the Middle East.

Sarah received dozens of awards for her service, including exceptional performance awards, meritorious unit citations, and warzone-related honors.

Since leaving the CIA, Sarah has continued in public service with local government as an emergency operations manager, where she specializes in all-hazards preparation, disaster response, and alert and warning.