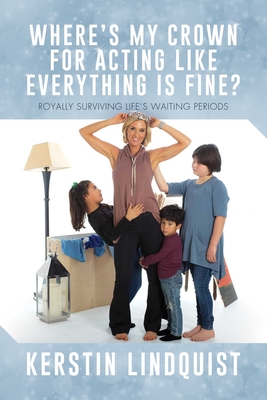 Where's My Crown for Acting Like Everything Is Fine?
Royally Surviving Life's Waiting Periods
Paperback

* Individual store prices may vary.
Description
Waiting to survive, waiting for what's next; we're all waiting for something. But, how do we stay sane in the meantime?
Making it through the tough waiting periods that string together, can leave us feeling anything but fabulous. But oh queen, you are!
Four-time Emmy Award winning journalist and TV host Kerstin Lindquist helps us break out of our most painful waiting rooms by delivering raw truth (
When did making women friends become so hard?
), attainable faith (
For two excruciating, sweat-inducing minutes, I publicly prayed a prayer so disjointed I can't even recreate the sounds, it was that bad
), and real-life humor (
My text read: "Just realized I'm naked in my kitchen making myself a martini").
Through the pages, Kerstin shares her own stories with the honesty of your best friend. She explains what has worked for real, overwhelmed, under-supported women just like you, who are living through unbearable waits: unemployment, illness, infertility, death, even seasons of joylessness that seem to never end. You will learn how to manage all the little waits that come daily, the ones that make you feel like you're missing out on your life.
Where's My Crown
offers tangible advice and actionable steps for coping through each season, including:
How to improve your prayer life.
How to break free from lack of sleep.
What foods can help you get and stay fit for this period of struggle.
The two categories of exercise that are essential for thriving.
How to find the elusive "tribe" we're supposed to have but can't seem to locate.
How to pick the right therapist.
How serving others can get you out of this waiting period faster.
Where's My Crown
considers that those waiting rooms of life that we so dread are full of gifts we're just too frustrated to find. Maybe you aren't getting out because there is something inside you're meant to discover—a person, a place, a situation that will change your life, or theirs, for the better. You just need to take a break from trying so hard to find the door.
Praise For Where's My Crown for Acting Like Everything Is Fine?: Royally Surviving Life's Waiting Periods…
"What you are waiting for might be found in this book, maybe. Or it could be lost running from a hectic life, insisting... 'Everything is fine!' Kerstin Lindquist has done it again! Given reason to fall into grace, love beyond fear and thrive in the wisdom of the great waiting rooms of life. Practicality and hope for those moments when you're wondering, 'when will things get better?' This work is a crowning achievement, teaching the very fundamentals in giving and receiving love for self, community, and the Divine."
— J.R. Mahon, Spiritual Director & Executive Director of TableTop Ministries

"It is to me like sitting having a hot cup of tea with my best friend who would never lie to me. Straight talk and heartfelt; warm and comforting. Wonderful reminders of everything we should be doing every day. Excellent examples of how we should do as Jesus did, not live our lives as we perceive others to see us. A lot of relatable life experiences and an easy read. You forget that others often have gone through what you have or that you may be the one to guide others through their valleys."
— Trish Redeker, Mom, wife, empty nester

"A must read! Spiritually uplifting, remarkably insightful, with just the right splash of humor, Lindquist's book provides a feeling of comfort that reaches deep inside us. Waiting for the rug to be pulled out from under is exhausting, but Kerstin guides us to trust in the Lord's Word, which she richly provides in her book. Through prayer we are reassured that He will show us the way to relaxation and happiness. No one is perfect. Perfection is perception, and we need to look to God to help us perceive what we are meant to be, to help us grab our crown!"
— Kate Redeker, Miss Wisconsin USA 2016

"Kerstin's writing draws you in and makes you feel like you're sitting on the couch with an old friend for wine night. We are all waiting for something. Whether it's big and exciting or small and mundane, Kerstin reminds us to not focus so much on what we're waiting for or we might miss what's right in front of us. And even though the waiting can feel heavy and painful, there is always joy and hope to be found in the present. Thank you Kerstin for reminding us that we are all so much more alike than we are different and to embrace each moment we've been given."
— Corie Clark, Creator of the Purposeful Planner, Author, Educator, Blogger

"Kerstin's writing is powerful. Her personal testimonies teach us how to thrive in life's many waiting periods. She offers practical tips that will not only inspire you, but also bring comfort and peace in the midst of your waiting."
— Roma Downey, Emmy-Nominated Actress, Producer, and New York Times Bestselling Author

"I could not put this book down. Kerstin has a way with words that makes you just keep going to the next page! She calls you to be your best self, despite the reality that for most of life we are stuck in a waiting room, caught between the now and the not yet. I love her insights on the bestselling book of Esther, a true story of a woman much like us! Kerstin will inspire you to wake up early, put on your best workout clothes, and move! She will brainwash you to like foods that you thought you'd never like, and motivate you to wear that crown that you were always meant to wear, all with childlike wonder and eyes on eternity."
— Monica Guaglione, Director of Education, Innovative Academy Calvary Chapel Chadds Ford

"Kerstin is an optimist. A real, rational, practicing optimist. What a gift it is to be able to learn from someone who never loses sight of goodness and opportunity while bravely navigating the inevitable pain and adversity that comes from living. Where's My Crown reminds us all that although life isn't easy or perfect, life is good."
— Steve Gross, Chief Playmaker, The Life is Good Kids Foundation
Post Hill Press, 9781642934854, 256pp.
Publication Date: July 21, 2020
About the Author
Kerstin Lindquist is the author of 5 Months Apart: A Story of Infertility, Faith, and Grace. She is a four-time Emmy award-winning journalist and recognizable TV host. Her articles on family, fitness, and faith can be seen monthly in various publications from Vibrant Life Magazine to Sail Magazine and have been featured on The Today Show. The confessional nature of her writing and public speaking and the intensely personal stories she shares resonate deeply with her fans. Kerstin lives with her husband and three children in West Chester, Pennsylvania. They spend their free time in warm climates—preferably with sand.