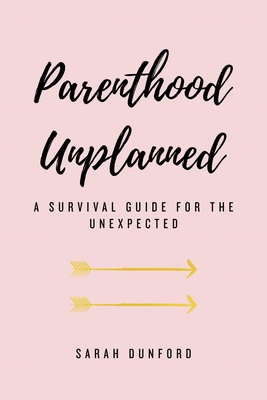 Parenthood Unplanned
A Survival Guide for the Unexpected
Paperback

* Individual store prices may vary.
Description
From a middle-school dropout and single-teen-mom-turned-educator, author, and pro-family advocate, comes a unique and candid memoir about a woman who was pregnant at sixteen and willingly chose to have her baby.

Parenthood Unplanned provides an in-depth perspective of both the raw and sobering truth—as well as the humor, joy, and adventure—of an unexpected pregnancy. Written through a Christian lens, Sarah shares practical, inspiring, and honest advice for young parents and their families facing the unexpected.
Praise For Parenthood Unplanned: A Survival Guide for the Unexpected…
"Parenthood Unplanned will take you on one woman's resilient journey through unplanned pregnancy. The various decisions pregnant women face and the way each of those decisions impacts a woman's heart will be exposed along the way. You will be motivated and equipped to help women connect with life-affirming options and solutions in the face of crisis and be reminded of God's redemption plan for our lives."
— Abby Johnson, Author of "Unplanned" and "The Walls are Talking"

"Sarah is the genuine article—funny, inspiring—she makes you feel like you're sitting in her living room having a girls' night in. You will laugh as you read some of her 'country as cornbread' expressions and stories but, throughout the book, she offers real-world, practical advice for the young woman facing an unplanned pregnancy. If you or someone you know is facing an unplanned pregnancy, buy this book."
— Laura Echevarria, Director of Communications and Press Secretary, National Right to Life Committee, Inc.

"As a single mother, my greatest blessing has been bringing my daughter into this world. I recognize that many women find themselves in difficult situations and Parenthood Unplanned gives the pro-life support they need to face their future with hope and joy. I know Sarah personally and have always been encouraged by her remarkable gift at mothering and raising a young woman who has given her life to bless others. I applaud Sarah's desire to promote pro-life and Christian principles through this book and am sure it will inspire many young women to embrace the gift of life given to them."
— Tina Ramirez, Candidate for U.S. Congress
Post Hill Press, 9781642934878, 256pp.
Publication Date: May 5, 2020
About the Author
Sarah Dunford, once a middle-school dropout and teen mom, is the author of Parenthood Unplanned: A Survival Guide for the Unexpected. She is passionate about helping others face the challenges that come with life's sometimes impossible and unexpected circumstances, having faced similar situations firsthand. From the depths of heartache and uncertainty, Sarah went on to earn her B.A. in history from Virginia Commonwealth University and her M.A. in education from Liberty University. She currently serves as the Client Services Director for her local pregnancy center.