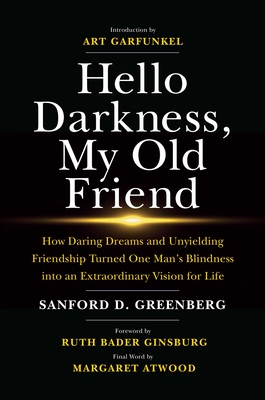 Hello Darkness, My Old Friend
How Daring Dreams and Unyielding Friendship Turned One Man's Blindness into an Extraordinary Vision for Life
Hardcover

* Individual store prices may vary.
Other Editions of This Title:
MP3 CD (12/29/2020)
Description
As seen on the Today Show and as featured in People Magazine!

The remarkable and inspiring story of a Columbia undergrad from a poor Jewish family who, after losing his eyesight to disease during his junior year, finds the power to break through the darkness and fulfill his vision for a life of great professional success and distinguished public service.

It's a bitterly cold February in 1961, and Sandy Greenberg lies in a hospital bed in Detroit, newly blind. A junior at Columbia University from a Jewish family that struggled to stay above the poverty line, Sandy had just started to see the world open up to him. Now, instead of his plans for a bright future—Harvard Law and politics—Sandy faces a new reality, one defined by a cane or companion dog, menial work, and a cautious path through life.

But that's not how this story ends.

In the depth of his new darkness, Sandy faces a choice—play it "safe" by staying in his native Buffalo or return to Columbia to pursue his dreams. With the loving devotion of his girlfriend (and now wife) Sue and the selflessness of best friends Art Garfunkel and Jerry Speyer, Sandy endures unimaginable adversity while forging a life of exceptional achievement.

From his time in the White House working for President Lyndon B. Johnson to his graduate studies at Harvard and Oxford under luminaries such as Archibald Cox, Sir Arthur Goodhart, and Samuel Huntington, and through the guidance of his invaluable mentor David Rockefeller, Sandy fills his life and the lives of those around him with a radiant light of philanthropy, entrepreneurship, art, and innovation.
Praise For Hello Darkness, My Old Friend: How Daring Dreams and Unyielding Friendship Turned One Man's Blindness into an Extraordinary Vision for Life…
"Light emerged from darkness in Genesis, in the creation of the heavens and the earth. Light also emerged from darkness in the life of Sandy Greenberg. This memoir reveals a triumph of the human spirit. It is the story of a man brought from blindness to richness, from darkness to light, through his passion and his accomplishments, and from a deep commitment from those who loved him. This book renews life in us all."
— Richard Axel, 2004 Nobel Laureate in Physiology or Medicine

"Sandy plays the hand he got and tries to make the world a better place. He has aspirations and hope. Sandy is a role model for all of us."
— Michael Bloomberg

"When blindness is vanquished, and it will be, we will have Sandy Greenberg and his story to thank."
— Senator Chris Coons

"There is no greater measure of character than viewing one's personal setbacks as a call to serve others. Sandy and Sue soared above their personal challenges and dedicated their lives to making a positive change in the world. We're confident that this magnificent book will be one of the most inspirational you will ever read."
— Elizabeth and Bob Dole

"An inspirational story of resilience, determination, achievement and, mostly, of the power of friendship and love. I could not stop reading this extraordinary book about an extraordinary journey."
— Susan Goldberg, Editor-in-Chief, "National Geographic"

"An inspiring must-read for anyone facing challenges in life, as a guide to beating the odds and making your impact on the world."
— Vice President Al Gore

"A majestic book, authored by the most 'haimish' of men. This should be required reading for every young person with a dream of helping their community."
— Senator Ron Wyden
Post Hill Press, 9781642934977, 240pp.
Publication Date: June 30, 2020
About the Author
Blinded at nineteen, Sanford D. Greenberg graduated from Columbia University (Phi Beta Kappa) and, following a Marshall Scholarship at Oxford, received his M.A. and Ph.D. at Harvard and M.B.A. at Columbia. He was a White House Fellow under Lyndon B. Johnson and later chaired the federal Rural Healthcare Corporation and served on the National Science Board. His career as an entrepreneur and investor began when he invented, of necessity, a speech-compression machine for those who need to listen and absorb large volumes of printed matter. He subsequently founded several enterprises, including a company that produced specialized computer simulators and the first database tracking antibiotic resistance globally. A Johns Hopkins University and Medicine Trustee Emeritus, Sandy is chairman of the Board of Governors of its Wilmer Eye Institute and founder, along with his wife, Sue, of the Sanford and Susan Greenberg Center to End Blindness at the Johns Hopkins Wilmer Eye Institute, the only facility in the world devoted solely to ending blindness for everyone, forevermore. In a December 2020 ceremony streamed worldwide, Sandy and Sue awarded the initial Greenberg Prizes: $3 million in aggregate to those researchers who have made the greatest progress toward ending blindness for all mankind.
or
Not Currently Available for Direct Purchase