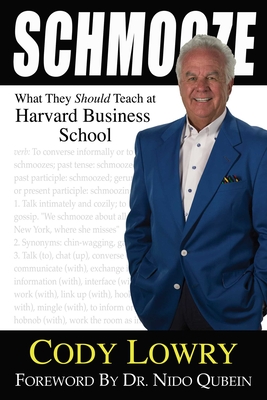 Schmooze
What They Should Teach at Harvard Business School
Hardcover

* Individual store prices may vary.
Description
"Wow! Self help and motivation for millennials, baby boomers, and everyone in between." —Tim Gannon, co-founder of Outback Restaurants
In this inspirational chronicle, entrepreneur Cody Lowry shares how the events in his life led him to become a motivational force in the lives of others. He'll share how being raised by a single mother prepared him for an extraordinary life. His odd job stories will demonstrate how reinvention is always possible. And with his marvelous storytelling technique, Cody will encourage readers to look at their lives differently. Through humorous, real-life stories, he'll arm them with a new definition of the word "schmooze" that will empower them to unleash their full potential.
Schmooze
is jam-packed with Cody's real-life experiences that will inspire readers by detailing:
How he set up a meeting with the President of the United States in just one week
When he was chosen to carry the torch in the Olympic Torch Relay
Why he was gifted a Super Bowl Ring by an NFL Hall of Fame head coach
What it took to get an autographed baseball from the Pope
This book for the ages, as powerful as Dale Carnegie's iconic
How to Win Friends & Influence People
, is a modern self-help guide that will be hard to put down. Cody Lowry will encourage you to think positively, try harder, have fun, and "schmooze" your way to a better life.
Praise For Schmooze: What They Should Teach at Harvard Business School…
"The Cody Schmooze philosophy would not only help business school graduates, it would give a leg up to graduates of law school and every other kind of school—including the school of hard knocks. Knowing how to combine chutzpah with being a mensch is a key to success, as Cody has shown."
— Alan Dershowitz, Author of Guilt by Accusation: The Challenge of Proving Innocence in the Age of #MeToo

"A great read! Cody has learned in this world by doing. He shares the lessons learned from his experiences in a humorous, direct way…there's something here for everyone."
— Hal Steinbrenner, Owner and Managing Partner, New York Yankees

"At Publix, we strive to deliver great customer service. In Schmooze, Cody humorously delivers a road map on how we can all hone our people skills, which includes developing a winning smile and the importance of making a great first impression. So read Schmooze…you will be glad you did."
— Barney Barnett, Former Vice Chairman, Publix Supermarkets

"Through humor and the art of actually doing, rather than philosophizing, Cody shares with all of us the art of the schmooze. This book is a must read for anyone, especially those entering the business world. Schmoozing was a gift that I instilled in my son, and I believe the book Schmooze will be a gift to everyone."
— Rob Weisbord, President of Local News and Marketing Services, Sinclair Broadcast Group

"Only Cody Lowry can up your game with the wink of an eye. In Schmooze, this proven performer not only shares the secrets of his success, he shows you how, and why, to put your life on 'schmooze-control.'"
— Eric O'Keefe, Editor, The Land Report

"Having grown up with two immigrant parents who spoke Yiddish as their primary language, how could I be anything but extremely enthusiastic about this book? I was taught that if you want to succeed in life, you'd better learn how to schmooze…and to do it authentically. In Schmooze, Cody amplifies how 'we' are the key to our own happiness and shows us how to live a richer, more fulfilled, and less complicated life. I'm sure everyone will enjoy this entertaining read, and will be a much better person for having read it."
— Sandy Schwartz, President, Cox Automotive

"When I met Cody, I immediately felt his schmoozing charm. This authentic, genuine individual could put a smile on the most difficult of guests. Simply put, the world needs more schmoozing and Cody delivers."
— Raffaele Ruggeri, CEO, Bice Restaurant Group (15+ Worldwide Locations)
Savio Republic, 9781642935158, 176pp.
Publication Date: July 21, 2020
About the Author
Cody Lowry's story is an upbeat and hilarious one. But it wasn't always that way. His past knew poverty, abandonment, and a family that moved thirty-two times within a seven-year period. Yet today, he's a Pied Piper of positivity with advice for everyone on how to make each day count.

Cody has been a successful marketer for thirty years, building a multi-million dollar ad agency from scratch. How did he overcome his past to achieve such success? He took on life with a unique perspective, executing bold ideas, making others laugh, and being ever mindful of the little guy.

His advice will delight and inspire you. You'll read about his travels, his ups and downs, and even how he auditioned for Saturday Night Live. Cody Lowry is a man who's lived a lot of life and walked the walk, as they say. Now, he's here to show you the steps to take towards a better life for yourself.