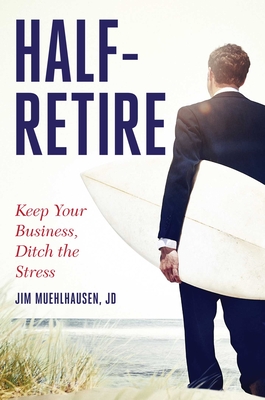 Half-Retire (Hardcover)
Keep Your Business, Ditch the Stress
Savio Republic, 9781642935653, 224pp.
Publication Date: July 14, 2020
* Individual store prices may vary.
Description
Don't sell your business. Half-Retire!

Entrepreneur and business coach Jim Muehlhausen has turned his attention to the problems facing experienced business owners. Ten years ago, business owners turning sixty-five were not selling their businesses and retiring. As Jim researched the issues, he found that owners:
1) Simply could not afford to sell the company.
2) Wanted to stay active.
3) Wanted to maintain the business for the employees.

By studying thousands of business owners, Jim saw a select few that had shifted from "working income" to "equity income." Owners earned money by owning the business, not working in it. By collecting their best practices and augmenting them, Jim created the Half-Retire Blueprint. This step-by-step process helps business owners like you create a profitable alternative to selling your business via Half-Retirement, allowing you to shift your focus and find your balance.

"Every business owner should consider Half-Retirement if they want to get full value for all their hard work." —Wayne Breitbarth, Author of the bestseller The Power Formula for LinkedIn Success

"Many business owners want to stay involved and active but can't find a way to extricate themselves from day-to-day office demands. Half-Retire shows you how to transform your mindset, keep your relationships and your income, and work on your own terms." —Bill Schley, Worldwide Marketing Expert, Author of The Micro-Script Rules

"I've worked in the exit community for decades and have seen business owners struggle to sell their business for enough to retire comfortably. Half-Retirement is a great solution to help business owners enjoy life and increase wealth." —Bill Black, Host of Exit Coach Radio
About the Author
Like most entrepreneurs, Jim Muehlhausen has done a little bit of everything—ranging from CPA, franchisee, attorney, business owner, consultant, franchisor, public speaker, university professor, and book author.

While still attending the Indiana University Maurer School of Law, he became the youngest franchisee in Meineke Discount Muffler history (1987–1991). After successfully selling that business, Jim founded an automotive aftermarket manufacturing concern. During his nine-year tenure with that business, the company achieved recognition from Michael Porter of the Harvard Business School and Inc. magazine in the IC 100 Fastest-Growing Businesses.

About twenty years ago, he found his true passion, serving as a consultant, business coach, and advisor to hundreds of businesses. He has conducted 10,000+ one-on-one consulting sessions with business owners around the globe. He has written two well-regarded books, The 51 Fatal Business Errors and How to Avoid Them, and Business Models for Dummies, and has contributed to publications such as Inc., The Small Business Report, Entrepreneur, BusinessWeek, and various business journals.
Praise For Half-Retire: Keep Your Business, Ditch the Stress…
"You have worked hard for many years to build your business, it's successful but it's just not fun anymore. How do you stop doing the things you don't enjoy, focus on the things you love, and reduce the amount of time you spend on your business without sacrificing your income and all the value that you have created? The answer is: read this book. Jim's six-step system outlines exactly what you need to do to get your life back and keep your business."
— John Spence, one of the top business and leadership experts in the world

"Every business owner should consider Half-Retirement if they want to get full value for all their hard work."
— Wayne Breitbarth, Author of the bestseller The Power Formula for LinkedIn Success

"Many business owners want to stay involved and active but can't find a way to extricate themselves from day-to-day office demands. Half-Retire shows you how to transform your mindset, keep your relationships and your income, and work on your own terms."
— Bill Schley, Worldwide Marketing Expert, Author of The Micro-Script Rules

"I've worked in the exit community for decades and have seen business owners struggle to sell their business for enough to retire comfortably. Half-Retirement is a great solution to help business owners enjoy life and increase wealth."
— Bill Black, Host of Exit Coach Radio

"For those of us who've kept our noses to the grindstone for years, but are still not quite ready to climb into that rocking chair, 'half-retiring' sounds good. Join me in learning the strategies and techniques Jim Muehlhausen writes about in this timely book."
— Phillip Van Hooser, Author of Leaders Ought To Know: 11 Ground Rules for Common Sense Leadership