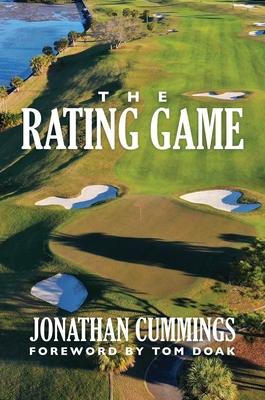 The Rating Game (Hardcover)
Post Hill Press, 9781642936025, 160pp.
Publication Date: June 2, 2020
* Individual store prices may vary.
Description
Ever curious on how the golf magazines come up with those Top 100 lists? The Rating Game exposes the A to Z of everything ratings and rankings.

"Jonathan Cummings has for years been an inspirational mentor to the golf rating community. With The Rating Game, he has now established himself as the authority as well. An excellent, and much-needed, book."—Josh Lesnik, President, KemperSports, and magazine panelist

"Cummings provides a sound and insightful look inside the arcane world of golf course rating. Golfers love to argue over which is the best and why and The Rating Game will be a welcome addition to many over-heated debates."—Gary Lisbon, President, GolfSelect; golf course photographer and magazine panelist

"Jonathan Cummings is the Nate Silver of golf course ratings. The Rating Game will open up a lot of eyes about hidden mathematical distortion in the golf course ratings system."—Bradley S. Klein, Golf Channel/GolfAdvisor.com

"I've known and read Jonathan Cummings for over forty years. He always provides fair and distinctive insight into a course's design and character (including some of my own). I applaud him for advancing the discussion in The Rating Game."—Tom Clark, Golf course architect and Past President of the American Society of Golf Course Architects

"If there ever was a golfer/writer cut out to analyze the course rating process, it's Jonathan Cummings. I met him twenty-five years ago, after he sent me a fifty-page missive detailing every technical aspect of every course he had played in the last year. I immediately read The Rating Game, and his thorough, analytical style lays out everything you need to know about the subject."—Jeff Thoreson, Editor, GolfStyles Media Group
About the Author
Jonathan Cummings spent thirty-seven years as a research test & measurements mechanical engineer and currently is an anti-submarine warfare consultant for DARPA. Cummings has long been active in golf as a travel consultant, journalist, editor, and speaker. For over thirty years he served as volunteer and/or committee chairman for the Kemper, Booz Allen, Quicken Loans, Constellation Energy, and Tiger Woods Foundation PGA tournaments. He has also served as executive board member for JPC International Golf Academy. Cummings spent nineteen years as a Mid-Atlantic course/slope rater and is a USGA rules and rater graduate. He is an original Golfweek panelist (1996) and past panelist for LINKS and GolfStyles. He has played golf in all fifty states and in thirty-five countries logging rounds at more than 1600 courses. A member of the USGA, Golf Writers Assn of Am, Donald Ross Society, Seth Raynor Society (board member), TPC Potomac and Belleair CC, Cummings lives in Belleair, FL and can be reached at golfguydz@aol.com.