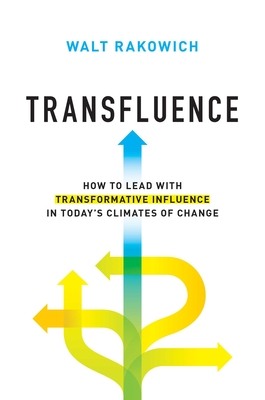 Transfluence
How to Lead with Transformative Influence in Today's Climates of Change
Hardcover

* Individual store prices may vary.
Description
How do you lead with transformative influence in today's complex world? Lead with Transfluence.

Walt Rakowich brings a real-world perspective to leadership that's based on experience, not just theory. Walt was CEO of Prologis, the world's largest owner of industrial warehouses and a critical partner to companies distributing products throughout the global supply chain. The company was near bankruptcy when Walt took over at the height of the Great Recession. While leading Prologis back to prominence, and in the years since, Walt realized leaders today must lean into timeless values and principles, but with a fresh perspective on the new realities of our leadership climates.

The modern leadership environment exists at the convergence of three distinct and dynamic climates: the climates of access, diversity, and acceleration. On their own or in the aggregate, these climates produce significant opportunities and tensions that will challenge leaders for generations. With a fundamental understanding of these climates, leaders develop a selfless approach that withstands the toughest storms.

Transfluence shows leaders how they can have transformative influence by overcoming their fears and pride, building transparency into their leadership, developing a strong core of authentic values, and passionately pursuing a meaningful purpose. When leaders do this, they seize opportunities, embrace challenges, and make their organizations and communities greater than ever.
Praise For Transfluence: How to Lead with Transformative Influence in Today's Climates of Change…
"Walt Rakowich knows the challenges of leading a cultural transformation in a global recession and hard times. His insights and experience are perfect for helping leaders who will take us all into a better future. If you need a vision of the way forward, this book is your roadmap."
— Chester Elton, bestselling author of "All In, The Carrot Principle, and Leading with Gratitude"

"Transfluence dives into the work of inner leadership, a process all leaders need before they can effectively empower others. Honestly, humility, and heart, the author's 3H-Core principles, are needed today more than ever before. This is a must-read for every aspiring leader."
— Susan Packard, former COO of HGTV and author of "New Rules of the Game and Fully Human"

"Trust is the cornerstone of great leadership. And Transfluence provides a proven approach to building trust in the challenging climates of the modern marketplace. This book is a must-read no matter where you are in your leadership journey."
— Joel Peterson, chairman of JetBlue Airways and the founding partner of Peterson Partners

"Two sad days in my life: When I was ten years old and found out Santa Claus was not real. And when I was fifty years old and found out that many CEOs, business experts, and leadership authors were just like Santa Claus–not real. And then there are the Walt Rakowiches of the world. The 193 pages in this book will change the way you love and lead. And if you finish every page, it will also change the lives of all those who choose to follow you."
— Tommy Spaulding, New York Times bestselling author of "The Heart-Led Leader" and "It's Not Just Who You Know"

"Walt Rakowich is an unsung business leader who successfully rescued his company from the havoc of the Great Financial Crisis. For many years, I have served with Walt as a corporate director and can attest to his exceptional, transformative leadership skills. I highly recommend this inspirational book."
— Sheila Bair, chair, FDIC, 2006–2011

"So many books on leadership are actaully guides to management. Not only is Transfluence an exception, it is noteworthy by connecting leadership to the very essence of human nature."
— Eric J. Barron, president, The Pennsylvania State University
Post Hill Press, 9781642936179, 208pp.
Publication Date: September 29, 2020
About the Author
Walt Rakowich has a passion for helping leaders create organizations that add real value to the lives of people who work in them, people who buy from them, and people influenced by them. His authentic brand of transfluent leadership has served him well in a global corporate environment. And it has made him a sought-after speaker and board member for nonprofits and Fortune 500 companies alike.

Walt spent the bulk of his career with Prologis, a NYSE company listed in the S&P 500. Prologis is a leading provider of warehouse distribution facilities and services with more than $100 billion in assets and operations in the Americas, Europe, and Asia. After a brief retirement, Walt was named CEO when the company was on the brink of bankruptcy. He and his team orchestrated a turn-around that breathed new life into the company's balance sheet and its culture. Then he led the company through a successful merger before retiring in late 2012.

Walt received his M.B.A. from Harvard Business School and his B.S. in accounting from Penn State University. He and his wife, Sue, live in Denver and have two adult children. He now spends much of his time writing, speaking, and serving on the boards of several for-profit and nonprofit organizations.
or
Not Currently Available for Direct Purchase