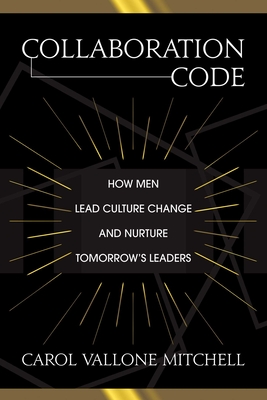 Collaboration Code
How Men Lead Culture Change and Nurture Tomorrow's Leaders
Paperback

* Individual store prices may vary.
Description
A unique blueprint for men to become collaborative leaders crucial for company success.

There is an unspoken crisis plaguing the workplace today: male leadership. Male leadership has become synonymous with reinforcing male stereotypes of dominance, aggression, independence, and resoluteness. These leadership behaviors promote a toxic workplace culture and negative outcomes. Moreover, in today's economy, collaboration is key. We are in a technology and services age that depends on optimized teamwork and innovation. Today's leaders require non-stereotypical male traits, such as nurturing, empathizing, and inclusive decision-making. It is a moment of change—big change—for men in the workplace.

How do men weather the storms of cultural change as it plays out in our work environments? How do men lead effectively and build healthy professional relationships and healthier work cultures? How do men blend feminine-associated characteristics into their leadership style while maintaining their masculinity? How do men lead collaboratively as men?

Collaboration Code:
• Describes a portfolio of behaviors that successful collaborative male leaders have in common.
• Shares executives' stories of nurturing top performance in individuals, teams, and their organizations by leading collaboratively.
• Reveals how men develop and demonstrate empathy, humility, and respect.
• Shows how collaborative male leaders make excellent mentors—particularly for women.

Collaboration Code provides a roadmap for what male leadership could and should be. It empowers men to be their best selves, stretch beyond stereotypes, and lead inclusively.
Praise For Collaboration Code: How Men Lead Culture Change and Nurture Tomorrow's Leaders…
"There are many books about how women can lead in a world dominated by men, but Carol Mitchell is one of the few to explore how men can lead effectively without dominating. In this buoyant book, she examines how men can be confident without getting cocky, show empathy without becoming weak, and elevate others without undermining themselves." -Adam Grant, New York Times bestselling author of Think Again and Give and Take, and host of the TED podcast WorkLife

"Carol Mitchell has conducted outstanding research on both women's and men's leadership. In Collaboration Code, she explodes stereotypes that men have lived with for far too long—particularly those that suggest that men do not or should not lead with empathy and compassion. Through compelling stories, she shows how the best male leaders have developed the emotional intelligence so fundamental to inclusive, collaborative leadership, the kind of leadership that creates and sustains the productive workplaces and healthy cultures we need so badly in today's world." -Annie McKee, Senior Fellow and Director, PennCLO Executive Doctoral Program University of Pennsylvania; New York Times bestselling author of Resonant Leadership and Primal Leadership

"Collaboration Code is a powerful book that shows how men are demonstrating principles of Athena leadership. Carol Mitchell's research puts a fine point on the skills and approaches of executive men that blend masculine and feminine traits. This is how men can join women to rule the future." -John Gerzema, CEO of The Harris Poll; New York Times bestselling author of The Athena Doctrine

"Collaboration Code is a welcomed clarion call for change in the business-as-usual leadership paradigm among men. Through lucid prose, engaging interviews, and savvy cultural observations, Carol Mitchell makes a strong case for empathy and collaboration as the new skillset men need if they are going to lead successfully in the 21st century." -Andrew Reiner, author of Better Boys, Better Men, masculinity researcher, and frequent contributor to the New York Times

"Given men currently occupy the majority of leadership roles, Carol Mitchell rightfully shines a light on masculinity norms that hold male leaders back from achieving their potential. Collaboration Code provides an extremely useful solution to the issue it raises—a framework for cultivating collaborative male leadership that organizations so desperately need." -Katina Sawyer, Ph.D., Assistant Professor of Management, The George Washington University School of Business, diversity and leadership researcher

"Carol Mitchell is a proven researcher, accomplished organizational observer, and compelling storyteller. Collaboration Code provides a powerful leadership roadmap that male leaders can employ to foster trust, set direction, and build team engagement and employee followership in any organization. This illuminating book is a must-read for any male leader who wants to strengthen his leadership agility and effectiveness with others!" -Rick Koonce, Executive Coach and Managing Principal, The Huntington-Northstar Group, LLC, Executive Coach to the MBA Program at the Wharton School, The University of Pennsylvania
Post Hill Press, 9781642936360, 208pp.
Publication Date: January 19, 2021
About the Author
Carol Vallone Mitchell is cofounder of Talent Strategy Partners, a talent management consulting firm focused on identifying and developing leaders who nurture the right workplace culture and drive results. Carol received her doctorate in Organizational Behavior from the University of Pennsylvania.