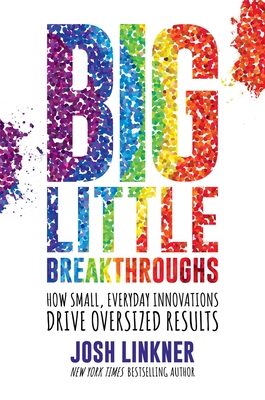 Big Little Breakthroughs
How Small, Everyday Innovations Drive Oversized Results
Hardcover

* Individual store prices may vary.
Description
A surprisingly simple approach to help everyday people become everyday innovators.

The pressure to generate big ideas can feel overwhelming. We know that bold innovations are critical in these disruptive and competitive times, but when it comes to breakthrough thinking, we often freeze up.

Instead of shooting for a $10-billion payday or a Nobel Prize, the most prolific innovators focus on Big Little Breakthroughs—small creative acts that unlock massive rewards over time. By cultivating daily micro-innovations, individuals and organizations are better equipped to tackle tough challenges and seize transformational opportunities.

How did a convicted drug dealer launch and scale a massively successful fitness company? What core mindset drove LEGO to become the largest toy company in the world? How did a Pakistani couple challenge the global athletic shoe industry? What simple habits led Lady Gaga, Banksy, and Lin-Manuel Miranda to their remarkable success?

Big Little Breakthroughs isn't just for propeller-head inventors, fancy-pants CEOs, or hoodie-donning tech billionaires. Rather, it's a surpassingly simple system to help everyday people become everyday innovators.
Praise For Big Little Breakthroughs: How Small, Everyday Innovations Drive Oversized Results…
"Big Little Breakthroughs is a work of creative genius. Josh Linkner unlocks the techniques behind some of the world's most remarkable innovations and shows how those techniques are there for the taking—accessible to anyone curious enough to set aside old ways and find out just how creative they can be."
— Eric Schurenberg, CEO, Fast Company & Inc.

"As a seasoned entrepreneur and investor, Josh Linkner knows that innovation rarely happens in a blinding flash of inspiration. With engaging stories and rich examples, he shows how ordinary ideas can fuel extraordinary results."
— Adam Grant, New York Times bestselling author of "Think Again" and "Originals," and host of the chart-topping TED podcast "WorkLife"

"Big Little Breakthroughs sets the new standard for using creativity in everyday life. Inspiring stories, fascinating research, and a practical guide that shows how all of us can be everyday innovators."
— Mel Robbins, New York Times bestselling author of "The Five Second Rule" and star of "The Mel Robbins Show"

"Building a culture of innovation is mission-critical in today's rapidly changing business landscape, and becoming even more important as we enter the Internet's Third Wave. Big Little Breakthroughs provides a clear path to help you build an army of everyday innovators, and turn ideas into action."
— Steve Case, CEO, Revolution; co-founder and former CEO, AOL

"This is a terrific book. It could change the way you approach your creative practice. Don't hesitate, it's worth your time."
— Seth Godin, New York Times bestselling author

"Here's a secret that top business schools don't want you to know: everyone has the ability to be an innovator. With the tools and practices found in Big Little Breakthroughs, you'll learn how to unleash your inner creativity and apply it to everything you do. With never-before-told stories of everyday innovators from across the globe, Josh Linkner inspires us to contribute to our communities through our creativity."
— Vijay Govindarajan, New York Times bestselling author of "The Three Box Solution" and the Coxe Distinguished Professor at Dartmouth College's Tuck School of Business

"Organizations that equip every single team member to become innovators are the ones that win over the long term. Big Little Breakthroughs delivers a powerful framework that will unlock hidden creativity in order to drive growth, innovation, and sustainable success. It will undoubtedly become the new standard for everyday innovation."
— Duncan Wardle, former head of innovation and creativity, Disney

"An adventure worth taking. Big Little Breakthroughs shows us how to inject innovation into our daily lives through captivating stories, surprising research, and practical tools that are easy to implement. It's my new field guide for creativity."
— Alison Levine, team captain of the first American Women's Everest Expedition, New York Times bestselling author, and professor at United States Military Academy, West Point

"Big Little Breakthroughs is the ideal mix of academic rigor and practical application. The book provides a systematic framework to harness and maximize both individual and organization creativity in order to boost results. Inspiring stories reinforce the point that we can all be innovators, regardless of our background or job function."
— Dr. David Brophy, professor of finance, University of Michigan Ross School of Business; founding director, Center for Venture Capital and Private Equity Finance

"Building a culture of innovation in large companies is critically important, and there's no better way to learn than with a trusted roadmap of tools and real-life examples. Big Little Breakthroughs illustrates how innovative thinking is possible for every employee and business leader, so we can all unlock our full creative potential."
— Mike Kaufmann, CEO, Cardinal Health
Post Hill Press, 9781642936773, 320pp.
Publication Date: April 20, 2021
About the Author
Josh Linkner is a creative troublemaker. He has been the founder and CEO of five tech companies, which sold for a combined value of over $200 million, and is the author of four books including the New York Times bestsellers, Disciplined Dreaming and The Road to Reinvention. He has helped launch over a hundred startups and was the Founding Partner of Detroit Venture Partners.

Josh is also a passionate Detroiter, the father of four, is a professional-level jazz guitarist, and has a slightly odd obsession for greasy pizza.

For more, visit JoshLinkner.com.