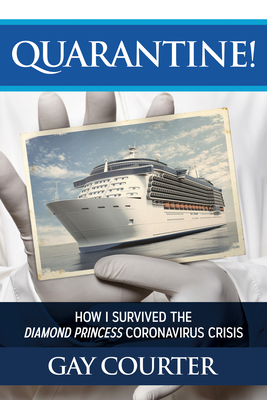 Quarantine!
How I Survived the Diamond Princess Coronavirus Crisis
Paperback

* Individual store prices may vary.
Description
A passenger's story of fighting for her—and everyone else's—rescue from the cruise ship with the first major outbreak of COVID-19 outside China.

What happens when you find yourself at the epicenter of a global crisis over a contagious new virus? Bestselling writer Gay Courter and her filmmaker husband learned the answer to that question in early February 2020, just as they were about to disembark from the Diamond Princess in Tokyo after a dazzling two-week southeast Asian cruise.

Weeks before lockdowns and social distancing became the new normal, the Courters and their shipmates suddenly found themselves trapped in a posh penitentiary—courtesy of the Japanese Ministry of Health.

Confined to their cabin and its balcony, they watched in terror as more and more sick and contagious passengers were loaded into ambulances and the world's press swarmed the port.

Rather than passively endure their nightmare-come-true, they launched a campaign to get themselves and everyone else off the ship. With the help of the global media and some well-placed connections, they managed to influence high-ranking U.S.government officials—right up to and including the White House—to bring everyone home to safety.

Quarantine! is the insider's book on the Diamond Princess episode, a suspenseful real-life drama recounting Gay and Phil's twelve-day ordeal aboard ship, their tenacious efforts to get the U.S.government to repatriate them and other Americans, and their additional fifteen-day quarantine under federal order behind chain-link fencing at the pointedly less-than-posh Lackland Air Force Base in Texas.

The COVID-19 crisis has affected the entire world. In her inimitable, long-admired voice, Gay Courter tells how it feels to wonder if you will be the next victim.

See quarantinediamondprincess.com for updates about the book and Phil Courter's forthcoming documentary, Quarantine! How We Survived the Diamond Princess Coronavirus Crisis.
Praise For Quarantine!: How I Survived the Diamond Princess Coronavirus Crisis…
"Quarantine! is an amazing story of Gay and Phil Courter's struggle to get off the Diamond Princess, where people were catching COVID-19 in epidemic numbers. While the Japanese government ignored their plight, the American government intervened and brought them home. Gay tells an intense human story with big historic implications. If you want to understand the early days of COVID-19, this book is a must read."
— Newt Gingrich

"A gripping account of being trapped aboard the most famous cruise ship since the Titanic. Quarantine! is an exceptional first-hand report of what it was like trapped onboard the Diamond Princess, desperately pleading for rescue as the world slowly realized what the novel coronavirus was about to become."
— Scott Keyes, founder of Scott's Cheap Flights
Post Hill Press, 9781642936834, 352pp.
Publication Date: November 10, 2020
About the Author
Gay Courter is the author of five bestselling historical novels, with over three million copies in print, and I Speak for This Child: True Stories of a Child Advocate. Gay did research for The Girl in the Box, a medical mystery set on a cruise ship, aboard the Diamond Princess in 2017.

Phil Courter (photographer), Gay's husband, is an Emmy-winning documentary filmmaker, author of The Filmmaker's Craft, and designer/builder of innovative film devices. Now semi-retired, he designs and builds musical instruments, furniture, and sculptures. He's also a bluegrass musician.

Sarah Flynn (editor) was at Houghton Mifflin in Boston when she worked with Gay on her first three novels. An independent editor since the late 1980s, she is also co-author of Voices of Freedom, a companion volume to the Emmy-winning documentary series Eyes on the Prize.