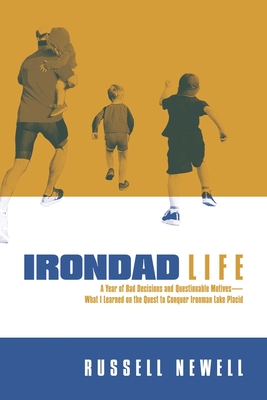 Irondad Life
A Year of Bad Decisions and Questionable Motives—What I Learned on the Quest to Conquer Ironman Lake Placid
Paperback

* Individual store prices may vary.
Description
A hilarious look at the world of Ironman triathlons and how one man tries to juggle training with the demands of a busy family.

Why do people race in Ironmans—a competition that was dreamed up by a U.S. Navy Officer after a beer-influenced debate over who were the fittest athletes—swimmers, cyclists, or runners? Only a person whose good sense was severely impaired would decide to do a race marked by such agony and suffering—a race that makes no sense to normal people.

What type of person (lunatic) goes to bed at 9:00 p.m. and wakes up at 4:00 a.m. every day for twelve months, eliminates every fun thing to eat and drink, incurs thousands of death stares from an angry spouse, and spends a minimum of ten thousand dollars…all to put their body through a seventeen-hour torture chamber during which a potpourri of exciting, physiological wonders—such as dehydration, fuel supply shortages, oxidative stress, muscle damage, brain fatigue, and overheating—occur, causing the body to age by twenty years?

Russell Newell would find out when he signed up for the second oldest Ironman in the country: Lake Placid, in the idyllic Upstate New York village nestled in the Adirondacks that twice hosted the Winter Olympics. Russell would then question his sanity and test his resolve as he attempted to finish the 2018 Ironman Lake Placid…despite almost drowning, crashing on his bike, and nearly shitting his pants eighteen times.
Praise For Irondad Life: A Year of Bad Decisions and Questionable Motives—What I Learned on the Quest to Conquer Ironman Lake Placid…
"What makes Irondad Life so enjoyable to read is Russell's sense of humor that leaks into every page. Readers will laugh at all the bad training, equipment, and race-day decisions Russell makes as he tries to figure out how to conquer Ironman Lake Placid. Parents will understand the humorous pain of never getting a good night's sleep when caring for multiple children under five. Russell's unyielding drive to accomplish a goal he becomes set on is a true lesson in perseverance. That anything is possible if you work hard enough and never give up until you cross that finish line." –Reedsy Discovery

Russell is my kind of athlete. He commits to a ridiculous goal and assumes he'll figure out the "how am I going to do this?" part later.

He is evidence for us all that it is possible to compete in some pretty serious endurance challenges even while juggling the rest of life's demands - in Russell's case: four kids, a high-profile job, and a spouse who may plot his demise if he mentions one more race he wants to do.

With numerous Ironmans under his belt, and an impressive background as a professional communicator, Russell is the perfect person to share tips, hard-earned lessons, and race woes in an enjoyable read. –Dana Ayers, author of Confessions of an Unlikely Runner: A Guide to Racing and Obstacle Courses for the Averagely Fit and Halfway Dedicated
Post Hill Press, 9781642937664, 240pp.
Publication Date: May 4, 2021
About the Author
A critically acclaimed author, former writer for Disney-ABC Television, and six-time Ironman, Russell Newell plunged into the world of Ironman triathlon in 2012 at Lake Placid and has explored every cutting-edge nutritional supplement and muscle recovery tool to coax his creaking body to get out of bed each morning to swim, bike, and run. He has sought every aerodynamic adjustment and equipment edge to beat his archrival, Jim Kane, in a series of races more fraught than the last ones. With a very accommodating wife, three young kids, and a baby on the way, he's continued to race these torturous, bank account-sucking, narcotic-level addicting affairs, while poorly trying to balance his family life. His book, Irondad Life, explores just how poorly.